Intel Announces Intel Studios, Featuring 3D Content-Creation Technology
Intel CEO revealed the studio's first shot scene at CES on Monday, announcing a partnership with Paramount
Chipmaker Intel now operates a Los Angeles studio dedicated to the production of virtual reality (VR) and augmented reality (AR) content, Intel CEO Brian Krzanich announced Monday at a keynote speech at the Consumer Electronics Show (CES) in Las Vegas.
Intel Studios, as the new facilities are called, will feature a dome-shaped, 10,000-square foot volumetric video capture stage, the world's largest, according to Mr. Krzanich. The dome, which is outfitted with 100 cameras, is designed to capture actors and objects in 3D, producing content for movies and VR and AR applications. Work on the 25,000-square-foot facility, which is located near LAX airport, was completed in the fall.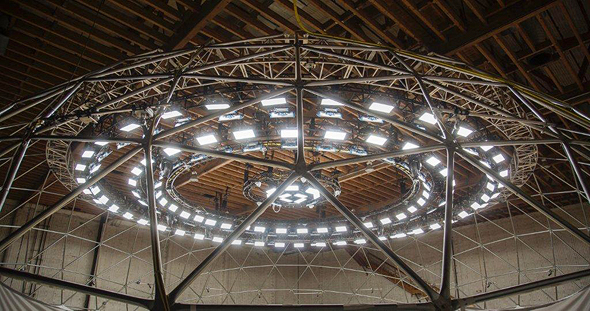 Intel Studios. Photo: Intel
Intel's 3D content capturing technology, based on multiple ultra high-definition cameras recording in 360-degrees, is developed and by its Tel Aviv-based subsidiary Replay Technologies Inc. Intel acquired the Replay in 2016 for around $175 million following a 3-year partnership.
The technology was originally used to capture and deliver high-definition 3D content from sporting events. In April, Intel announced a video partnership with the U.S. National Football League (NFL). Intel CEO said Monday the technology would also be used to capture sporting events at the 2018 Winter Olympics in Pyeongchang County, South Korea, which will take place in February.
"Data is going to redefine how we create experiences for all audiences in the future. That is why we built Intel Studios, which is the most advanced data-driven content creation studios," Mr. Krzanich said.
To illustrate Intel Studios' innovation, Mr. Krzanich showed a clip of a classic western scene shot with Intel's 3D capturing technology, the first clip to be shot on the studio's volumetric stage. "The amazing thing about this technology is that you can do the scene and then view it from any perspective," Mr. Krzanich said. "This is a new standard in entertainment and technology that we think is going to help the most innovative creators to rethink the movie experience."
Mr. Krzanich also announced a partnership with Paramount Pictures Corporation. "As audiences are moving from a flat screen to an immersive experience we'll be able to convey the world in a way closer to reality than cinema has ever been able to do before," Paramount CEO and Chairman Jim Gianopulos said Monday at CES.
"With Intel's help, we'll be taking advantage of the latest creative and technological tools to put our audiences literally inside the movie experience and give them a vision of the future of entertainment like never before."