3D Printing Company Stratasys Now Prints Parts for Chocolate Production
Dutch 3D printing service Visual First is using an additive developed by Stratasys to print parts for chocolate manufacturer The Chocolate Factory
Nasdaq-listed manufacturer of 3D printers Stratasys, Ltd. is producing parts used for the production of chocolate, Stratasys announced Tuesday.
For daily updates, subscribe to our newsletter by clicking here.
According to the company, Dutch 3D printing service Visual First is using an additive developed by Stratasys to print parts for Rotterdam, Netherlands-based chocolate manufacturer The Chocolate Factory. The printed parts, which can be created on-demand, replace metal machine parts used in the packaging process, which have a high wear-and-tear rate. The printed parts cost 60% less than the originally used parts, the company said.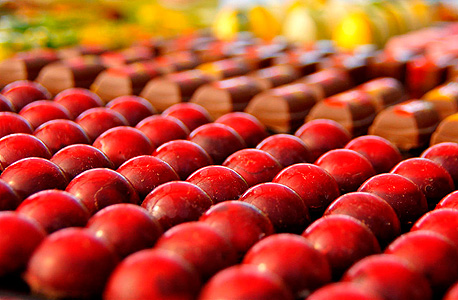 Chocolate (illustration). Photo: Raya Altman
Founded in 1989 and headquartered in Rehovot, south of Tel Aviv, Stratasys manufactures and markets 3D printers and 3D production software and materials for industries such as aerospace, automotive, healthcare, and consumer products. In 2012, Stratasys merged with privately held Objet Ltd., an Israeli manufacturer of 3D printers. Stratasys now employs more than 2,000 people in Israel and in an additional facility in Eden Prairie, Minnesota.
"With Stratasys additive manufacturing, we can produce customized replacement parts on-demand that can perform just as effectively as the metal machine parts," Carl van de Rijzen, owner of Visual First, said in a statement. "We can 3D print and deliver production parts to The Chocolate Factory in under a week, which is vital to ensuring manufacturing line continuity."
The parts are printed with Stratasys' high-performance FDM Nylon 12CF composite material, a carbon-filled thermoplastic containing 35% chopped carbon-fiber.
"We're witnessing a growing demand for 3D printed production parts and replacement parts for industrial machinery, especially for packaging machines," Nadav Sella, head of Stratasys' Emerging Solutions Business Unit, said in a statement. "These machines require a high-level of customization due to the large variety of products that are packaged. In many cases, the use of additive manufacturing can not only save time and cost during the manufacture of such machinery, it can also make them more efficient by reducing weight, simplifying the design and increasing functionality."