DuPont-Pioneer, Evogene Announce Up to 20% Increased Corn Yield in Trials
Evogene uses computational predictive biology to develop novel crop strains and pesticides. Further trials are required before commercialization
Seed producer DuPont-Pioneer and crop design company Evogene Ltd. achieved positive results in their second-year field trials for the development of microbial seed treatments for the improvement of corn yield, Evogene announced Wednesday. The trials are part of a multi-year collaboration between the companies, announced in July 2017.

For daily updates, subscribe to our newsletter by clicking here.

Established in 2002 and based in Israel, Tel Aviv-listed Evogene uses computational predictive biology to develop novel crop strains and pesticides. The current trials, which still need a third successful year to initialize commercialization, test bio-simulant microbial seed treatments based on Evogene's previous work.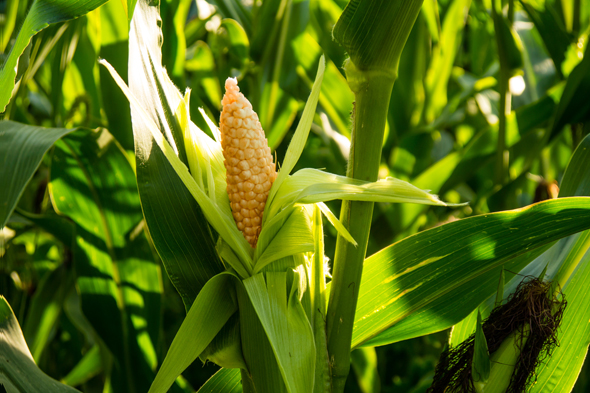 Corn. Photo: Shutterstock
Bio-stimulants are organic materials or organisms that do not provide nutrients, like fertilizers, but instead enhance aspects like nutrient intake, growth, stress tolerance or crop yield and quality. Use of bio-stimulants is on the rise, as more traditional chemical and synthetic products are being scrutinized for environmental impact, and tightening regulation turns the industry towards naturally sourced, more sustainable solutions.
An October 2017 report by market research company MarketsandMarkets Research Private Ltd. valued the global bio-stimulant market at $1.79 billion in 2016 and estimated it would reach $3.29 Billion by 2022. Row crops like corn are expected to be a major growth driver in the market, the report said, especially in developing regions in Asia Pacific and South America, which are areas with a significant increasing trend in drought propensity according to a 2017 article published in the academic journal Water Resources Management.
Evogene's current trials demonstrated up to 20% increases in corn yield under moderate drought conditions, the company said in its statement. Moderate drought refers to areas where damage to crops can be expected due to the low levels of rain, or the decreasing stream, reservoir, and well water levels.
"Even though Evogene's Ag-Biologicals division was initiated only in 2015, we have already made significant progress, as shown by these positive results," said Evogene President and CEO Ofer Haviv. "I am confident that this progress will lead us within the coming years to the commercialization of multiple potent and efficient bio-stimulant seed treatments and other ag-biologicals products."
Evogene also has an internal bio stimulant program focused on wheat yield, which is now moving forward to second-year field trials following positive first-year results, the company stated.