Gal Gadot Is Huawei's New CEO—Chief Experience Officer
The Chinese telecommunications company announces it selected the Israeli actress as celebrity sponsor at the Consumer Electronics Show in Las Vegas
Gal Gadot, the Israeli actress who played the title role in the 2017 Warner Bros. movie "Wonder Woman," is the new celebrity sponsor of Chinese telecommunications company Huawei Technologies Co., Ltd. Ms. Gadot will join Huawei's marketing efforts as the company introduces its Mate10 Pro mobile phone to U.S. market.
For daily updates, subscribe to our newsletter by clicking here.
In 2015 and 2016, Ms. Gadot was featured in ad campaigns for Huawei phones in Israel.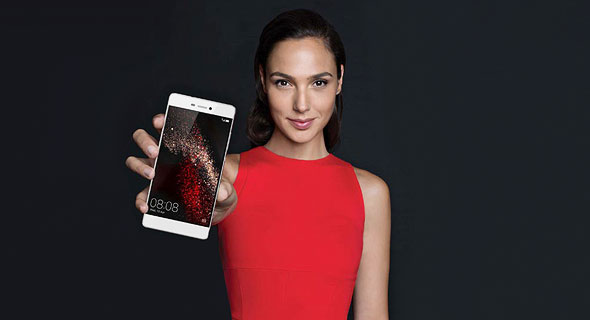 Gal Gadot. Photo: PR
Huawei is the world's third-largest smartphone brand by volume of sales, following Samsung Electronics Co. and Apple Inc. On Tuesday, the company announced Gadot's endorsement at the Consumer Electronics Show (CES) in Las Vegas, saying Ms. Gadot will serve as the company's first "Chief Experience Officer." A spokeswoman for Huawei told Calcalist that in her new role, Ms. Gadot will have "an active role" in shaping the company's brand experiences.
On Tuesday, the Wall Street Journal reported that U.S.-based telecommunications company AT&T has decided to back away from a deal to sell Huawei's smartphones in the U.S. Huawei had been expected to announce the deal at CES that day. Richard Yu, CEO of Huawei's consumer products division, addressed the void agreement at his CES keynote speech, in which he presented the Mate10 Pro for the U.S. market.
The deal with AT&T was going to be Huawei's first partnership with a premier mobile carrier in the U.S. While customers in the U.S. can buy Huawei devices, they are not offered as part of a data package by a U.S.-based carrier.
On Tuesday, Reuters reported that AT&T was pressured to back away from the Huawei deal by members of the U.S. Senate and House intelligence committees who cited concerns about Huawei's alleged role in Chinese espionage efforts.
"Partnering with an innovative brand like Huawei is incredibly exciting for me, and I look forward to playing an integral part of the company's growth in the year ahead," Ms. Gadot said in a statement.