Moody's Downgrades Teva Bond Rating to "Junk"
The credit rating agency is following is the steps of Fitch, which did the same in November. Of the "big three," only S&P Global still rates Teva as investment grade
Friday, Moody's Investors Service has downgraded drugmaker Teva Pharmaceutical Industries Ltd. to junk rating, citing the company's challenging debt load.

For daily updates, subscribe to our newsletter by clicking here.

Moody's is the second "big three" credit rating agency to do so. In November, Fitch Ratings Inc. changed Teva's rating from BBB to BB, with a negative outlook, referring to Teva's "significant operational stress" and its need to reduce debt. Standard & Poor's Global still rates Teva at the lowest investment grade, after changing the company's outlook to negative in August.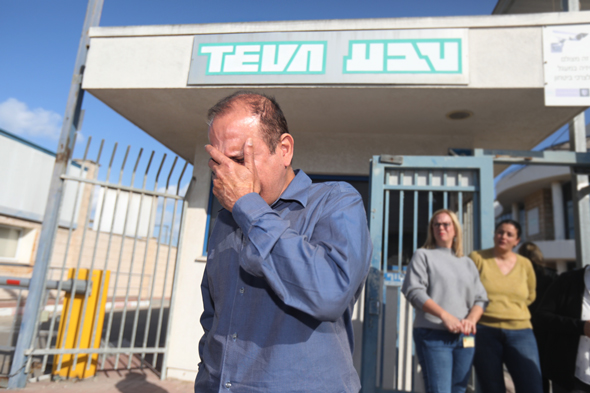 Teva employees outside the company's facility in Netanya, Israel. Photo: Nimrod Glickman
Teva is currently carrying around $32 billion in debt, mostly due to its $40.5 billion acquisition of Allergan's generic business Actavis in 2016, which required Teva to take out extensive loans. Teva has been selling off non-core assets for the past few months to meet its short-term debt covenants and announced the layoffs of 25% of its workforce in December as part of a wide-reaching reorganization program.
The company's long-time flagship drug for multiple sclerosis, Copaxone, has brought the company around $40 billion since it came onto the market in 1996, but in October Mylan N.V. received approval for a generic version in the U.S. market, and by December it has already taken 10% of the market share, according to Credit Suisse analyst Vamil Divan.
On Wednesday, Allergan Plc announced it has sold 1.55 million of its Teva shares for $20.03 per share, reducing its stake to 6.8%. Allergan originally received a 10% stake in teva as part of the 2016 deal.
Last week, speaking at the JP Morgan Healthcare Conference held at San Francisco, Teva CEO Kåre Schultz said the company will make sure it gets below a net debt of four times EBITDA at the end of 2020, and that his long-term ambition for Teva will be around two times net debt to EBITDA.
"The downgrade of Teva's ratings to speculative grade reflects the challenge of managing its significant debt burden while facing a prolonged period of earnings erosion," said Morris Moody's Assistant Vice President Borenstein in a statement. "While Teva's cost restructuring program will help to partially offset declines, execution risk is high. In addition, we believe earnings declines from Copaxone and its U.S. generics business will be severe, and that meaningful deleveraging to under four times gross debt/EBITDA will take several years to achieve."
Teva has also announced it is stopping its dividend payments until further notice, and last week a company spokeswoman said the company's board cut its cash compensation by half, starting December 2017.
Last week, a company spokeswoman told Calcalist that Teva's global chief information officer Guy Hadari is leaving Teva for Dublin-headquartered Shire Plc, a global biotech company focusing on rare diseases. Mr. Hadari will serve as a senior vice president and global chief information officer at London-listed Shire.