Dell to Distribute Augmented Reality Headset by Meta
The new Meta 2 offers an immersive AR experience aimed at commercial customers looking to adopt AR technologies, particularly in the fields of healthcare, manufacturing, and construction
On Thursday, computer manufacturer Dell announced that it will be selling an augmented reality (AR) headset and development kit by Silicon Valley-based startup Meta Company, starting February 15.
For daily updates, subscribe to our newsletter by clicking here.
The kit is aimed at commercial customers looking to adopt new AR technologies, particularly in the fields of healthcare, manufacturing, and construction. The kit will make the Meta AR headset compatible with Dell's professional PCs, including Dell Precision workstations, the company's customizable high-end computer systems and its touch pen system Dell Canvas.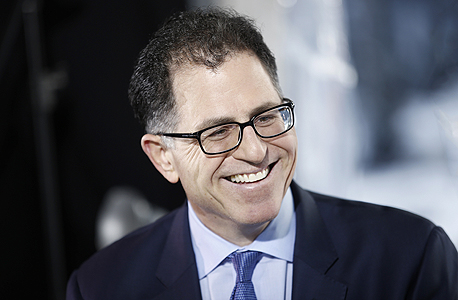 Dell founder and CEO, Michael S. Dell. Photo: Bloomberg
The headset will be offered through Dell's online shop in its regular retail price of $1,495, as well as in a bundle with compatible Dell products. Among the applications available for the set, is the "Medical Holodeck," which allows medical professionals to collaborate in AR, using Dell Canvas and the Meta headset.
Founded in 2012 by Israeli-born tech entrepreneur Meron Gribetz, Meta's initial $194K funding was secured through a 2013 Kickstarter campaign. In 2015, Meta announced a $23 million Series A funding round led by Hong Kong-based Horizons Ventures Ltd. The following year, it raised $50 million in venture funding from Lenovo, Chinese investment holding conglomerate Tencent Holdings, Tel Aviv-based private investment fund Singulariteam Ltd. and international VC firms.
The company's latest product, the Meta 2 offers an immersive AR experience with a wide field of view, an optical engine for overlaying photorealistic content, and the ability to manipulate holographic 3D content through touch.
Joe Mikhail, chief revenue officer at Meta, said in a statement "we are certain our partnership with Dell will deliver our game-changing technology into many creative hands and drive productivity measures to both developers and corporates alike."
Rahul Tikoo, vice president and general manager at Dell Precision workstations, said in a statement that VR and AR have tremendous potential across industries. "In addition to building technology powerful enough for the job, we're also committed to working with our innovative partners to make AR more comprehensive and accessible for our commercial customers to explore and adopt," he added.