Visual Reality Headsets Are Coming to Amusement Parks
Tel Aviv-based startup Astral Vision offers park owners the chance to upgrade their rides with controllable simulated content
Tel Aviv-based startup Astral Vision Ltd. is bringing virtual reality to amusement parks and thrill rides.

Established in 2015, the company develops specially tailored headsets for moving rides that synchronize body positions and momentum with the projected content.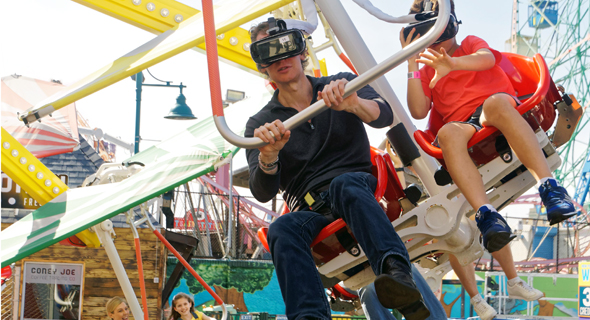 Astral Vision's headsets in use

In March, Astral Vision signed a distribution agreement with Antonio Zamperla S.p.A., an Italian company building family rides, thrill rides, and roller coasters worldwide. The first amusement park to feature the devices is Coney Island-based Luna Park, which debuted the technology in its WindstarZ ride, opened the same month. The ride enables users to simulate hang gliding and control their own experience and virtual surroundings.

"Virtual reality technology is changing the amusement park industry," Astral Vision's CEO Guy Finfter said in an interview with Calcalist earlier this week, adding that the company held dozens of pilot rides in U.S. and Israeli amusement parks.

"The combination of the physical forces that affect the users during the ride, the simulated 360 degrees surroundings and the precise synchronization with the ride's movements creates a strong sensory experience," he said.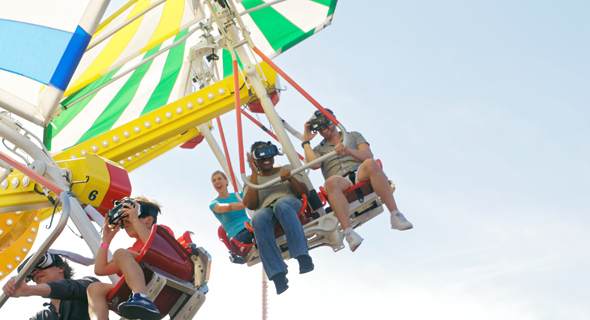 Astral Vision's headsets in use

According to a 2011 survey conducted by the International Association of Amusement Parks and Attractions (IAAPA), 25% of Americans visited amusement and water parks that year.

Mr. Finfter believes the digital revolution will enable parks to lower building costs substantially. "Park owners that want to attracted new and returning visitors find themselves in an endless race to buy better and more thrilling rides. But for a ride to return the investment, the park has to offer it for many years limiting owners ability to refresh their offering often."

Astral Vision's is currently in the process of patenting the technology, and is also developing disposable hygienic cover for the headsets that would make the devices suitable for repeated use by different users.

Astral Vision raised around $1 million in equity funding from investors including venture capital firm Clear Future Corporation and Dr. Israel Frieder, former vice president of telecommunication manufacturer ECI Telecom.