Brain Monitoring Startup Montfort Wins Henry Ford Health System's AI Contest in Israel
The startup, which offers a "master app" that tracks a patient's motor, cognitive, and affective activity, will receive clinical and research assistance of up to $75,000
Israel-based startup Montfort Brain Monitor is the winner of Henry Ford Health System's artificial intelligence challenge in Israel. The startup was chosen from a pool of over 50 applicants, and will receive clinical and research assistance of up to $75,000, as well as business and regulatory guidance tailored to the U.S. healthcare market.

For daily updates, subscribe to our newsletter by clicking here.

Michigan-based Henry Ford Health System (HFHS) operates six hospitals, and also offers various services through its general and specialized medical facilities. Its innovation arm, the Henry Ford Innovation Institute, was founded in 2012 to function as an independent scientific research and educational entity.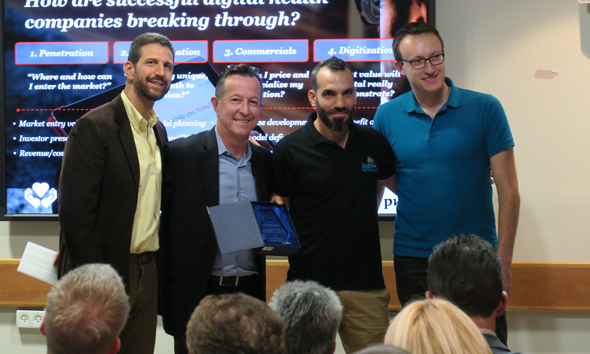 Left to right: mHealth Israel founder Levy Shapiro, Henry Ford Innovation Institute CEO Scott Dulchavsky, Montfort CEO Ziv Yekutieli, Montfort CTO Dima Gershman. Photo: Ben Hajaj
Henry Ford Innovation first announced the competition in September, a first for the company outside the U.S. Also backed by Jewish charitable foundation the William Davidson Foundation, the program aims to identify cutting-edge healthcare technologies from Israel and co-develop and launch them in the U.S. healthcare market.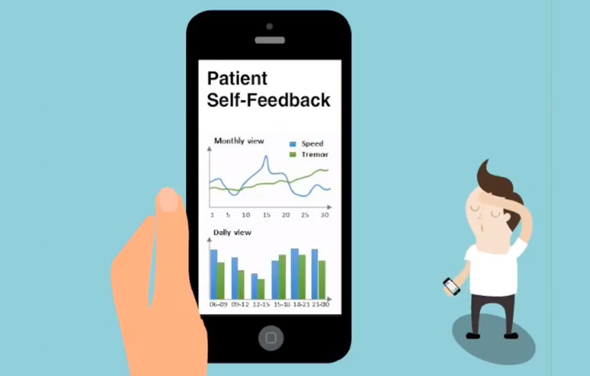 Montfort's app. Photo: youtube
Established in 2014 and based in the northern Israeli port city Haifa, Montfort offers a "master app" that runs in the background and uses a smartphone's sensors to track patients' motor, cognitive, and affective activities in real time. The monitor can be special-tailored to a patient according to their specific neurological disorder, from Parkinson's disease to traumatic brain injury.
Machine learning paradigms are then used to process the information, and anonymized data is used for generating collective feedback. There are two versions of the app, one for in-home use by patients, and one for in-clinic use by physicians.
"For patients with movement disorders, we are in need of multi-modality data analysis to enhance clinical decisions and reports from patients," Peter LeWitt, director of the Parkinson's disease and movement disorders program at Henry Ford Hospital, said in a statement.
"Machine learning applications offering such detailed and unbiased analysis have the potential to guide understanding of movement disorders that even a trained clinician might miss – and that could greatly advance our capabilities for both diagnosis and treatment."
For the competition, HFHS partnered with mHealth Israel, an umbrella organization of high-tech and life science industries in Israel.
"The trend toward value-based care and price transparency is driving more and more health systems to demand AI solutions," said mHealth's founder Levi Shapiro. "Unfortunately, startups have limited insight into the workflow, processes and back-end requirements of their health system customers. Co-development is a great way for technology startups to optimize their commercial proposition."
HFHS also intends to co-develop eight projects in Israel with healthcare-oriented startups in 2018-2019, in partnership with mHealth, Mr. Shapiro said in an interview with Calcalist Monday.