Primary Data Burned Through Nearly $100 Million, Pivoting from Software, to Hardware, to Software
After aiming to develop the one data storage system "to rule them all," the company recently suspended operations after four years in the running
Within a few more months data storage company Primary Data Inc. could have had a market ready product, and a few more clients added to its one big paying customer. But after pivoting from a software-based business model, to hardware, to software again, it was already running on fumes. Since it was founded in 2013, Primary Data burned through nearly $100 million, with no significant market traction to show for it. Over the holidays the company, founded by two veteran entrepreneurs with a $2 billion IPO under their belts, let go all remaining employees in the U.S. and in Israel.

For daily updates, subscribe to our newsletter by clicking here.

"Primary Data is suspending operations and your last day is January 21," the company's rewards director Eric Iverson wrote in an email sent to the company's last five employees in Israel. "Unfortunately, our funding did not materialize in time to avoid termination of your employment. We know this is sudden but we need to release you now while we still have the funds to make a final pay to you for the days you have worked," the email reviewed by Calcalist states.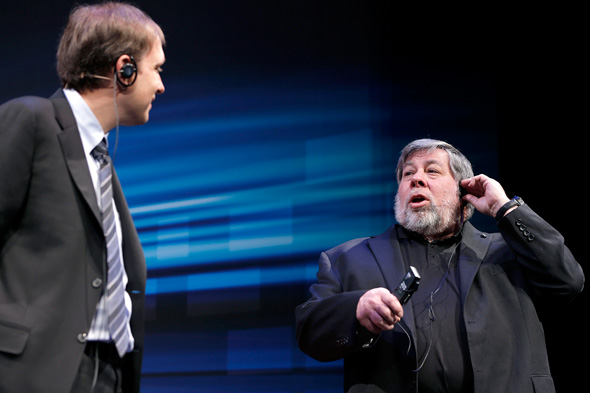 Left to right: David Flynn and Steve Wozniak. Photo: Bloomberg

On Tuesday, TechCrunch first reported the company is shutting down.

Interviews with three of the company's former employees, one of them relaying information by another employee, two of its former managers and one of its board members, all but one speaking on conditions of anonymity, sketched an all too familiar story: top venture capital firms sunk dozens of millions of dollars into a company with no market ready product; development teams and projects multiplied at dizzying pace; market readiness was pushed back as the company zigzagged from one business model to another, and the costs kept piling. In the end, the company just ran out of a runway.

"With too much money, companies lose focus and their sense of urgency when it comes to getting paying customers and selling as a first priority," one of the company's board members said in a phone interview with Calcalist on Tuesday.

In 2011, flash storage company Fusion-io Inc. went public on the New York Stock Exchange with a valuation of around $2 billion. Co-founders David Flynn and Rick White made good on venture investments of over $110 million from the likes of New Enterprise Associates (NEA), Lightspeed Venture Partners, Accel Partners, and Andreessen Horowitz.

In 2013 they were ready for their next adventure, and they found it in Israel-based startup Tonian Systems Inc.

Founded in 2011 by Adam Kaplan and Sharon Azulai, Tonian developed virtualization storage software. Its enterprise-grade management software seemed especially useful to motion picture studios, where the system's ability to quickly pull up files made the life of illustrators and computer graphics specialists easier. Sony Pictures Imageworks tested the system, according to two employees, while one of the company's senior executives said it was used in the production of one of the Amazing Spiderman movies. UBS AG and software company Red Hat Inc. also tested the system as did a few more companies, the executive said.

Sony Pictures Imageworks, UBS and Red Hat were approached for comment but have yet to respond.

During a funding round Tonian held in 2013, Mr. Flynn and Mr. White invested $5-$10 million and bought the startup outright from the existing shareholders, merging it with their stealth mode startup Primary Data and deciding on a pivot to hardware. Mr. Azulai left the company after the merger while Mr. Kaplan stayed until November 2016 as vice president of business development. Mr. Azulai went on to found and lead storage startup Plexistor Ltd., later bought by NetApp Inc.

Cashing in on their success with Fusion-io, Mr. Flynn and Mr. White raised $50 from venture capital firms including Accel Partners, Battery Ventures and Lightspeed Venture Partners. Existing Israel-based investor Cedar Fund also pooled in. The two entrepreneurs put the money to work and started recruiting developers. At its peak, the company's development center in Tel Aviv employed around 50 people, many of them coming from the storage divisions of IBM and EMC in Israel.

In 2014, the company started expanding operations and development in the U.S., with offices in Los Altos, California and Salt Lake City, Utah. The company also outsourced quality assurance projects to a 10 person team in India.

In mid-2014 it pivoted back to software. In November 2014, the company recruited Apple co-founder Steve Wozniak as chief scientist. Mr. Wozniak previously held a similar position at Fusion-io.

"When I joined in 2015 there wasn't yet an existing product, it was still under development," one employee told Calcalist in an interview. He left a position at a multinational company to join Primary Data. "I saw a company helmed by successful entrepreneurs, with an exit under their belt, a technology with potential, and Steve Wozniak."

Repeated architectural shifts and lack of market traction have taken their toll. In the summer of 2016, the company notified employees of the Israeli site it was downsizing. Ron Asher, then the company's head of engineering, left the company, taking with him many of the employees recruited since 2013. The pricey offices were sold to cybersecurity startup foundry Team8 LLC, and the company's remaining Israeli employees started working out of WeWork spaces. A WeWork spokesman said the company does not comment on the comings and goings of members.

Team8 did not comment.

The company continued to burn through cash, raising additional funds along the way. In February 2014 it raised $10 million. In August 2017 it raised $40 million, half of it through debt financing. Even a successful deployment at Deutsche Telekom subsidiary T-System, which became a paying customer, couldn't stop the hemorrhaging. The company's promised product, a software that could manage multiple storage systems at once by combining different manufacturers, stayed out of reach, sprouting an ever-growing number of development projects.

T-System was approached for comment but has yet to respond.

With Messrs. Flynn and White at the helm the company's ambitions were sky high. It aimed to create the one data storage system "to Rule Them All," according to one board member.

"The company started doing all the usual mistakes: it grew too large, with too many developers, and too many managers. (It ran) too many development projects at the same time. Developing such a product—controlling all other storage systems in the enterprise—development never ends. You need to make it compatible with Microsoft, EMC, IBM—with a task-specific team for each. On top of that you need a management system. To make it enterprise-ready the investment required is huge. If you work with just a single vendor there's simply no justification for the product, and with so many jobs to tackle, there are so many ways to fail," he said.

"When we passed the baton in 2013, we had the impression that it was handed to impressive entrepreneurs with first-tier technical and marketing capabilities," Benny Halevi, one of Tonian's managers, said in a text message sent to Calcalist on Tuesday. "They joined after we had several successes with our prototype. After the acquisition the product was redesigned. They wasted the potential of both the technology, and the engineering team," he said.