On the Heels of Increasing Chinese Tourism, Alipay is Coming to Israel
The number of Chinese tourists visiting Israel more than doubled over the last two years
Alipay, one of China's most popular mobile payment platforms, can now be used by Chinese tourists visiting Israel to pay for services in the country. Alipay is owned by Ant Financial, an affiliate of Alibaba Group Holdings Ltd. Last week Alipay announced a partnership with Israel-based credit card issuer Israel Credit Card Ltd. (CAL) and OneBill Software, an online billing platform.

For daily updates, subscribe to our newsletter by clicking here.

The move is part of Alipay's global expansion plan. In May 2017 the company announced a partnership with payments processor First Data that will enable Chinese tourists to use the service with four million American merchants; in December Alipay signed a similar deal with Cambodia's local payment platform Pi Pay. On Monday, Alipay announced a partnership with European payment service provider SIX Payment Services to make the platform available across most local businesses in Davos, Switzerland, a popular ski resort and conference center.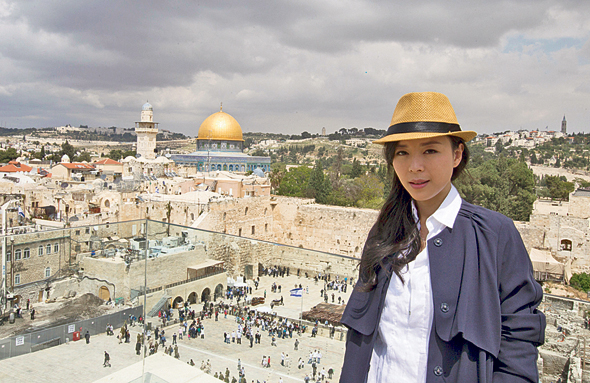 Chinese actress Zhang Jingchu visiting Jerusalem. Photo: IFP

According to a December report by Israel's Ministry of Tourism, 105,000 Chinese tourists visited the country in 2017, a 46% increase from 2016 and a 139% increase from 2015.

The growing interest has led Asian airlines to increase the number and frequency of their flights. Hainan Airlines Holding Co Ltd. officially opened a non-stop Shanghai-Tel Aviv service in September and increased the frequency of its existing service between Tel Aviv and Beijing, launched in 2016. Hong Kong-based Cathay Pacific began offering four flights a week in March 2017, and announced it will increase the route to six weekly flights soon.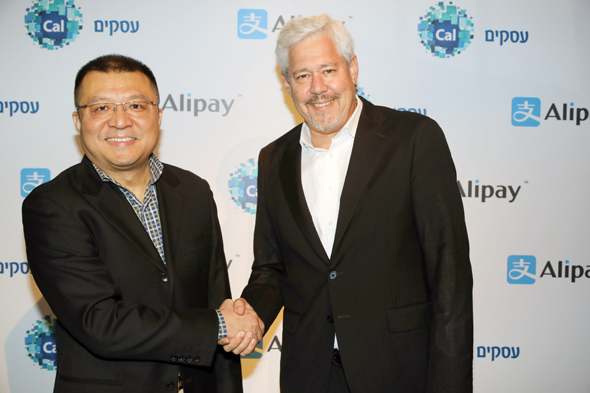 Wu Bin, the economic and commercial counselor of the Chinese embassy in Israel, and CAL CEO Doron Sapir, during the partnership's launch in Israel. Photo: Sivan Farag

"Chinese travelers are seeking to travel and pay with only their mobile phone when they are abroad—just as they do when they are in China," said Ms. Li Wang, head of EMEA at Alipay, in a statement. "We are excited to see our partners bringing Alipay to the Middle East for Israeli experiences, local shops and in-flight payments."

"This alliance with the leading global brand Alipay constitutes a significant step forward in the credit sector, which will increase clientele for Israeli businesses and expose them to a new market," said Mr. Doron Sapir, CEO of CAL, in a statement.

As part of the agreement with Alipay, the Israeli credit card company will supply local merchants with tablets connected to Alipay's system, which would enable customers to pay by scanning a QR code. CAL and Alipay have launched a marketing campaign and are hoping to sign on businesses catering to tourists like hotels and restaurants, a CAL spokeswoman said in an interview with Calcalist Monday.

Among the companies already offering the service are Israel's flag carrier El Al Israel Airlines Ltd., Israel-based Dead Sea cosmetics manufacturer Ahava, acquired by Shanghai-based conglomerate Fosun International Ltd. in 2016, and the James Richardson Corporation, which operates duty-free retail stores in many global airports, including Ben Gurion airport, Israel's main international gateway.

This article was corrected. A previous version stated Alipay is owned by Alibaba Group.