Jerusalem's OurCrowd to Collaborate With Berlin-Based Accelerator leAD on New Sports Tech Fund
Dubbed ADvantage, the fund will invest in 15 early-stage startups in the domains of sports, fan engagement services, online athletic communities, eSports and fantasy sports
Equity crowdfunding company OurCrowd Management Ltd. announced Thursday the launch of a new $50 million fund dedicated solely to sports tech. Dubbed ADvantage, the fund was founded in collaboration with Berlin-based leAD Sports Accelerator Management GmbH, spearheaded by the Adi Dassler Family Office, a German sports-oriented cash management firm founded by the grandchildren of Adidas founder Adolf (Adi) Dassler.
For daily updates, subscribe to our newsletter by clicking here.
The ADvantage fund will focus on 15 early-stage sports tech startups, including those focused on fan engagement services, online athletic communities, eSports and fantasy sports. The fund will be led by serial entrepreneur and leAD founding partner, Christoph Sonnen, and athlete and venture capitalist Jeremy Pressman.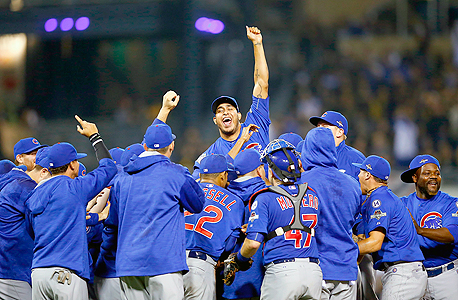 Baseball players (illustration). Photo: Getty Images
Mr. Pressman said in a statement that sports tech is a rising industry with 4000 companies worldwide, and over $5B invested in the past five years.
Founded in 2012, Jerusalem-based OurCrowd offers private investors a way to participate in investments in pre-vetted Israeli startups. A September report published by Israel-based research company IVC Research Center Ltd. named OurCrowd as the most active crowdfunding platform in Israel, involved in 58% of all equity crowdfunding deals. According to information released by the company, in 2017 OurCrowd's investor base grew to over 25,000 registered investors from 112 countries, with an average portfolio size of $250,000 each.
On Wednesday, the company announced that in 2018 it plans to surpass $1 billion in assets under management. The company also announced that it has raised $650 million for 145 companies and 12 funds to date. ADvantage will be its 13th fund, the firm said.
The announcement of the new fund was made as part of OurCrowd's annual Global Investor Summit, held Thursday in Jerusalem. According to the company, 10,000 attendees from over 90 countries have registered for the summit.
Seed funding in Israel was down 49% in 2016-2017, CEO and founder of OurCrowd Jon Medved said at the summit, and so OurCrowd is doubling down on seed rounds through its Lab/02 startup incubator, announced Tuesday. He added that the firm is also planning to make seed investments through its venture capital funds.
"We hope to do rounds of 20 million dollars in single companies via crowdfunding," Mr. Medved said. "If you look at our business today we have individual investors—25 thousand registered, but institutions and family offices are joining us and they are welcomed," he added.