The Boxee Box Outlived The Company That Created It, Says Co-Founder
The company was acquired by Samsung in 2013 only to be shelved two years later
The Boxee Box outlived the company that created it says Israeli-born tech entrepreneur and co-founder of media streaming company Boxee TV Ltd., Idan Cohen. According to Mr. Cohen, hardware products must have a relatively short lifespan, in order to allow companies to continue to make profit.
For daily updates, subscribe to our newsletter by clicking here.
"People are still using our product and this shows we have made a lot of mistakes - such a product should not have lived so long - we over-engineered it," Mr. Cohen said in an interview with "30 Minutes or Less" podcast by Microsoft Accelerator TLV, which aired on Calcalist Sunday.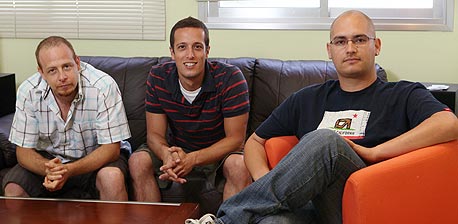 Boxee founders Tom Sella, Idan Cohen and Roee Vulkan. Photo: Orel Cohen
Mr. Cohen also said that Boxee's first product was too complex for most users. When you build a product, he said, it is important to resist the temptation to develop it for the most advanced customer.
Founded in 2007 in Tel Aviv, Boxee developed a streaming device and operating system for televisions, allowing users to watch content streamed from their computers as well as from licensed services. According to Mr. Cohen the company pre-sold 70,000 units of its first streamer, leading to a $14 million income before its launch. The final sales added up to about $100 million, he said.
After raising a total of $26.5 million the company was acquired by Samsung Electronics Co. for $30 million in 2013 and moved to New York. According to Mr. Cohen, at first, Samsung wanted to integrate Boxee's technology into its smart TVs but since he believed the interface was one of the main flaws in the product, the collaboration shifted in another direction, focusing on creating a better experience. "What we learned was that navigating with a TV remote control just wasn't the right UI for choosing content," he said, adding that they pitched using a tablet specifically designed to be an interface tool instead.
After two years under Samsung, Boxee was officially shut down.
The 30 Minutes or Less podcast, which launched in March, is hosted by Navot Volk, the managing director of Microsoft Accelerator TLV, and tech entrepreneur Aviv Frenkel. The two interview tech founders, investors, and other key members of the Israeli tech ecosystem.