Black Cube Moves into Larger, Fancier Headquarters
The Israel-based intelligence company, spy firm of Weinstein affair, will be hiring dozens of employees this year
Israeli intelligence firm Black Cube nearly doubled its office space this week, moving into a high rise building in Tel Aviv, and plans to expand its workforce, according to two persons familiar with the matter who spoke on conditions of anonymity.

For daily updates, subscribe to our newsletter by clicking here.

Founded in 2010, Black Cube offers the expertise of ex-Israeli spies to clients who are engaged in business disputes. The firm gained notoriety worldwide last year when New Yorker magazine revealed that now-disgraced Hollywood producer Harvey Weinstein had hired Black Cube to collect information on an actress accusing him of sexual misconduct.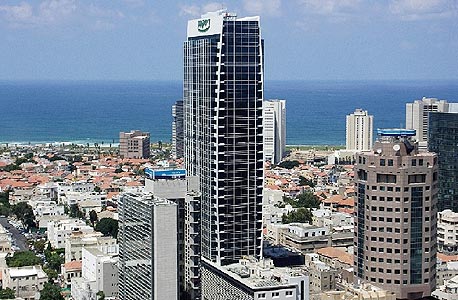 Bank Discount Tower. Photo: PR

The intelligence firm, which is officially registered in Israel as B.C Strategy Ltd., apologized for its involvement with Mr. Weinstein's case.

The new company headquarters is located on the 26th floor of the Bank Discount Tower, which is located on Rothschild Boulevard, one of Tel Aviv's most exclusive streets, the two people familiar with the matter said.

Signing a 5-year, $11 million lease with real estate company Pandom Group Ltd., Black Cube acquired 1,100 square meters of office space (nearly 12,000 square feet), according to a Pandom employee who spoke to Calcalist on condition of anonymity. The intelligence firm previously operated out of 600 square meters of space (about 6,500 square feet) in an undistinguished squat building in central Tel Aviv.

Black Cube has 120 employees, 30 of which were hired last year, a person familiar with the company's plans said speaking on conditions of anonymity. The company expects to hire dozens more employees this year, that person said.

The company culls its employees from the ranks of Israel's military intelligence unit as well agencies such as the Mossad and Shin Bet, Israel's equivalent of the FBI.

The lion's share of its business, Black Cube maintains, comes from law firms representing business interests in court. News reports have revealed tactics that range from secretly recording executives while they're out riding bikes to impersonating headhunters with enticing job offers.