Alibaba Partners with Israeli Startup to Supply a Cloud Database in China
Tel Aviv-based SQream Technologies develops a GPU database for large-scale data analysis
Alibaba Cloud, the global cloud computing arm of China's Alibaba Group Holding Ltd., is partnering with data analytics startup SQream Technologies, the company announced Wednesday. As part of the partnership, Alibaba will market the database to its Chinese cloud customers, SQream's chief marketing officer David Leichner said in an interview with Calcalist Wednesday.
For daily updates, subscribe to our newsletter by clicking here .
Alibaba has also agreed to invest up to $20 million in SQream, according to one person familiar with the agreement who spoke on conditions of anonymity.
Alibaba has declined to comment.
SQream declined to comment on a possible investment made by Alibaba.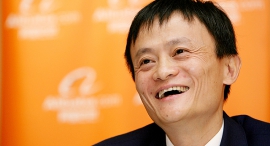 Alibaba founder and chairman Jack Ma. Photo: Bloomberg
Last week, Alibaba published financial reports for the quarter ended December 31, 2017. For its cloud business, established in 2009, the
company reported revenues of $553 million, a 104% year-over-year increase. The revenues are generated primarily from services such as data storage, elastic computing, database and large-scale computing services, according to Alibaba's statement.
In October 2017, Alibaba Cloud President Simon Hu told the Alibaba-controlled paper South China Morning Post that Alibaba has taken on Amazon on all fronts as its benchmark for the past three years, and that some of its products have already exceeded Amazon's.
Established in 2010 and headquartered in New York with a research and development center in Tel Aviv, SQream develops SQream DB, a database management system that uses Nvidia graphics processing units (GPU) and offers corporations an economical way to analyze large data sets.
The collaboration will provide Alibaba Cloud customers with on-demand, large-scale data storage ranging between 10 terabytes and several petabytes, according to the company's statement.
"GPU databases provide an innovative and cost-effective choice for enterprises to setup, access and analyze data at massive scale," said Chaoqun Zhan, director of Alibaba's database business, in a statement. "Partnering with SQream will enhance the capabilities of our global technological ecosystem, empowering growing enterprises world-wide."
Alibaba founder and chairman Jack Ma plans to visit Israel in May, Calcalist reported in January. Mr. Ma will be awarded an honorary doctorate from Tel Aviv University as part of the visit, a university spokeswoman said.