Interview
Road to Inclusiveness in Israeli Tech Still Long, Researcher Says
Before Arabs can take a bigger role in Israeli tech some fundamentals need to change, says researcher Nasreen Hadad Haj-Yahya
Currently facing a talent crunch, Israel's booming tech industry has an untapped source of engineers that is largely overlooked. Lacking the necessary network, Israel's Arabs miss out on lucrative tech jobs even when they have the required academic qualifications, according to Nasreen Hadad Haj-Yahya, co-director of the Arab-Jewish relations program at The Israel Democracy Institute, an independent research center based in Jerusalem.

For daily updates, subscribe to our newsletter by clicking here.

Comprising 17.4% of the country's workforce, Arabs with Israeli citizenship hold only 1.4% of high paying technology jobs in the local market, according to a study by the Israeli Ministry of Finance published in August. Many of the Arabs that graduate from tech related academic programs in Israel end as up high-school teachers, Ms. Hadad Haj-Yahya said in an interview with Calcalist held Wednesday.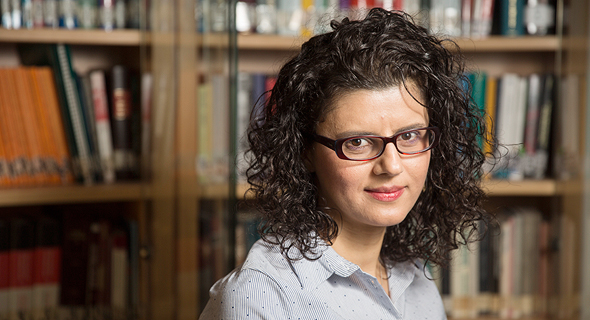 Nasreen Hadad Haj-Yahya. Photo: The Israel Democracy Institute

Much of Israel's Arab population lives outside of the country's metropolitan centers, where local tech firms have taken root, contributing to the low number of Arab employees in Israeli tech.

36-year-old Ms. Hadad Haj-Yahya is an Arab researcher and doctoral candidate at Tel Aviv University. Born and raised in Ramle, a mixed Jewish-Arab city in central Israel, Ms. Hadad lives with her husband and three girls in Tayibe, an Arab city in central Israel.

After being nearly absent in relevant academic programs, in recent years the percentage of Arabs in tech-related academic fields has seen a dramatic increase. Between 1985-2014 a yearly average of about 50 Arab students graduated from programs that can potentially ensure them tech jobs, amounting to only 2.3% of the graduates of such programs, according to the report by the Israeli Ministry of Finance. But things are changing fast: in 2016 over 2,200 Arab students were enrolled in tech-related studies, amounting to 9.5% of students, according to the report.

Arab students are getting into new, sought-after fields at an accelerated rate, studying tech-related subjects, medicine, engineering and para-medical subjects, according to Rami Nasser, a banker at Israel's Bank Hapoalim's tech unit in Nazareth. The Galilee town has been at the center of the nascent scene of startup entrepreneurship among Arabs living in Israel, attracting some multinationals who have opened development centers in the city, including Microsoft, and chip manufacturer Broadcom. Bank Hapoalim helps Arabs entrepreneurs form ties with the country's vibrant tech ecosystem, Mr. Nasser said in an interview with Calcalist Wednesday.

Her research focuses on "inaction" amongst Arabs aged 18-22 in Israel—the phenomenon of people who are living outside any formal structure, including work or studies. According to data collected by Ms. Hadad Haj-Yahya for her doctorate research, 52% of Arab women aged 18-22 are "inactive" and neither study nor work. "For these women, the glass ceiling is a cement ceiling," she said.