Barclays Taps Israeli Entrepreneur to Head Tel Aviv Accelerator
The accelerator's new manager Hila Ovil-Brener founded a 2,500 members strong organization promoting female entrepreneurship in Israel
Britain's second-largest bank Barclays has tapped Israeli entrepreneur Hila Ovil-Brener to head its Tel Aviv accelerator, powered by American seed accelerator TechStars, which operate 34 accelerators around the world.

For daily updates, subscribe to our newsletter by clicking here.

Barclays currently offers its fintech accelerator program in three other locations: London, New York, and Cape Town. The Tel Aviv accelerator, opened in 2016, offers a mentor-driven 13-week program to startups in the domains of fintech, cybersecurity, insurance tech and enterprise software.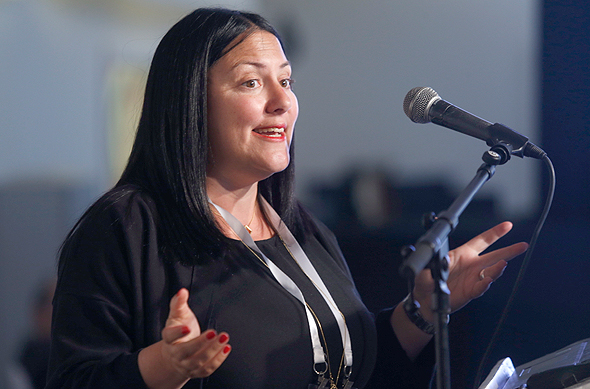 Hila Ovil-Brener. Photo: Amit Sha'al

Barclays also operates a development and engineering center in Israel, established in 2011 in partnership with IT services provider Ness Technologies Inc.

Citibank, the consumer division of financial services organization Citigroup, also runs a fintech accelerator in Israel. Citi has had an innovation lab in the country since 2011, which employs some 200 people. In 2013, Citi partnered with the Israeli Ministry of Finance in a program to operate a startup accelerator focusing on cyber and fintech technologies. 68 startups have already graduated from the program in seven cohorts, and an eighth cohort is set to begin.

J.P. Morgan is another financial heavyweight looking to tap Israeli innovation. The bank opened a center in Israel in late 2016 in the industrial zone of Tel Aviv Suburb Herzliya, focusing on cyber and fintech.

Ms. Ovil-Brener, a lawyer by education, is the founder of Tel Aviv-listed Whitesmoke Israel Advanced Technologies Ltd., a company developing and marketing an English grammar checker software. She is also the founder of Yazamiot, a 2,500 members strong non-profit organization promoting women entrepreneurship in Israel.

The companies most suitable for the program are ready to integrate their product in a large organization like Barclays, Ms. Ovil-Brener said in an interview with Calcalist Thursday. One of her main objectives is facilitating a connection between the startups in the program and Barclays and Techstars, Ms. Ovil-Brener added.

Ms. Ovil-Brener said that her experience taught her how difficult it can be for startups to identify key people in large organizations. "I know how it feels for a company to search for a way in and not find the right person. I'm bringing a lot of energy and a willingness to help them integrate into those big organizations," she said.

The accelerator is currently receiving applications for a new cohort of ten startups. Aside from mentoring and the opportunity of facilitating connections with the community and with industry experts and leading investors, participating startups will also receive free access to Barclay's co-working open innovation workspace for the duration of the program.