Opinion
In Syria, Russian and Iranian Economic Interests Clash
Iran's growing military presence in Syria overlays its involvement in the economy of the civil war-torn country
Iran's growing military presence in Syria overlays its involvement in the economy of the civil war-torn country. Since 2011, Iran has invested an estimated $20 billion in military and economic aid for Syria, as part of a plan to expand its interests once the violence there subsides.

For daily updates, subscribe to our newsletter by clicking here.

Over the weekend, the Israeli Air-Force launched an attack on Iranian targets in Syria, its largest scale airstrike against Syria since the 1982 Israel-Lebanon war. On Saturday, Israel dispatched several F-16 jets to attack Iranian position in Syria in response to an Iranian drone infiltration into Israeli airspace earlier that day. Syrian anti-aircraft fire downed one of the jets, prompting a second, larger Israeli attack in Syria later that day. Israel said it hit 12 Iranian and Syrian targets in Syria, including Syrian air defense systems.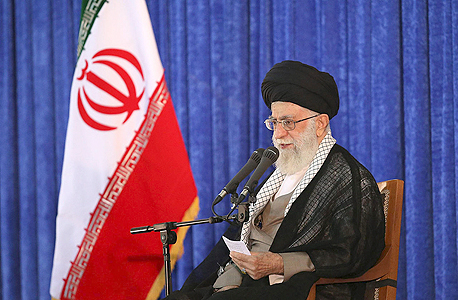 Supreme Leader of Iran Ali Khamenei. Photo: EPA

In areas controlled by Assad, Iran has been instrumental in maintaining a facade of economic normalcy by providing fuel and goods in addition to military support. As part of its financial aid program, Iran has provided the Assad regime with a credit line estimated at $1 billion a year, meant to be used to purchase Iranian goods. In return, Syria has granted Iran customs exemptions, furthering Iran's efforts to fill the void the war created in the Syrian market, especially following the shutdown of Syria's trade relations with Turkey.

Since 2011, Iran and Syria have signed a series of agreements on military support, which also included clauses meant to promote Iran's interests in the Syrian economy. One such agreement, signed in 2017, established the construction of an oil export seaport in Syria.

The new port, to be located in the northern coastal region of Syria, would serve Iran's strategic interests by making it easier for Iran to export oil to European markets.

Russia, Assad's second ally, has pushed back against the plan. Russia is determined to maintain its own influence in the northern coastal region of Syria, and Iran's planned export activities there are jeopardizing Russia's position.

Rehabilitation and infrastructure reconstruction expenses in Syria are estimated at $200-350 billion, and it is unclear how much further destruction the war there will cause before it concludes. Syria's debt to Iran is already estimated at $35 billion. The war has depleted Syria's foreign currency reserves, and it is clear the country will not be able to bankroll the reconstruction efforts on its own.

In recent years, Syria repaid Iran for its military and financial support by signing over the rights for the processing of Syrian agricultural land to Iranian companies and by giving Iranian mining companies the rights to some of the country's natural resources mines, including phosphate mines located near the ancient city of Palmyra, near Homs. The Assad regime has also looked the other way as Iranian citizens have methodically taken over real estate in Syria.

Both Iran and Russia are preparing for the "day after" by establishing their grasp over the local economy. The two countries will likely participate in bankrolling rehabilitation efforts in the country. It is yet to be seen what valuable resources Syria will have to sign over in return.

Doron Peskin is an analyst of Middle Eastern economies and the head of Concord MENA, a company specializing in public sentiment analysis of Arab countries.