Israeli Oil Pipeline, Once Co-owned by Iran, Will Continue to Be Cloaked in Secrecy
Decades after seizing Iran's half of the oil pipeline company, Israel is in the process of transferring its assets to a new, independent entity
Israel's state-run oil pipeline company, founded in partnership with Iran 50 years ago, will continue to be shrouded in secrecy after its reorganization is completed next year, the Israeli parliament's Foreign Affairs and Defense Committee decided Monday.

For daily updates, subscribe to our newsletter by clicking here .

Publishing classified information about the company is punishable by a prison sentence of 15 years to life, according to the confidentiality order issued by the committee. Unauthorized possession of such information can carry a seven-year prison sentence.

Israel is in the process of divesting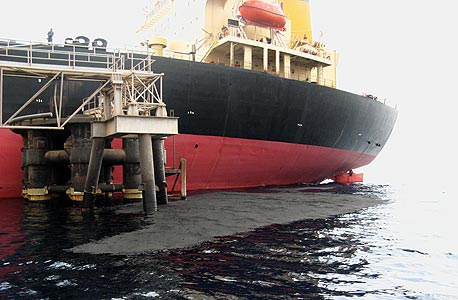 Eilat Ashkelon Pipeline Company. Photo: Oz Goren

Ltd., a government-owned company, of its assets and transferring them to a successor company, Europe Asia Pipe Line Company Ltd., which was chartered by law earlier this year. The reorganization is part of Israel's efforts to break away from financial obligations to the Iran government.

The two governments founded EAPC in 1968 as equal partners at a time when Egypt was blocking the passage of Israel-bound ships through the Suez Canal. The company built a pipeline from Israel's Red Sea port to the Mediterranean coast bypassing the canal.

Following the Iranian Revolution of 1979, Israel ended the partnership and refused to compensate the new Islamic government. The two countries are locked into a decades-long arbitration proceeding with billions of dollars at stake.

Originally founded for the purpose of transferring Iranian oil to Europe through Israel, EAPC has since diversified into the oil storage and distillates production, serving Israel and global markets.

In 2003, EAPC upgraded its pipeline to enable reverse flow so that oil from the Black Sea and Caspian Seas could be shipped to East Asia from the Red Sea terminus of the pipeline. The company has about 350 employees today.

From the outset, EAPC's operations were exempt from laws requiring the government to disclose information to the public because of national security concerns. The company was not subject to the State Comptroller's review and it was not required to pay taxes on its income.

Civic and political leaders called for an end to the secrecy surrounding EAPC in 2014 after a rupture in its pipeline caused more than a million gallons of oil to leak into a nature reserve in Israel's southern desert.

In response to an Israeli Supreme Court petition filed by an environmental group, Israeli lawmakers exempted environmental and safety issues from the EAPC confidentiality order. The sources of the oil supply and other details about EAPC's core business operations remain classified.