Communication Cyberdefense Startup Perception Point Raises $8 Million
Founded by Israeli military intelligence veterans, the company's technology detects cyber-attacks before they infiltrate enterprise IT systems
Tel Aviv-based enterprise communications cybersecurity startup Perception Point has raised $8 million in a Series A funding round, led by Israel-based firm Pitango Venture Capital, the company announced Tuesday. Founded in 2015 by Israeli military intelligence veterans, Perception Point's cloud-based service detects and blocks cyber-attacks coming through communication channels. The company previously raised $2 million in its seed round.

For daily updates, subscribe to our newsletter by clicking here.

Tel Aviv-based State of Mind Ventures (SOMV), and Seoul-headquartered Korea Investment Partners also participated in the round.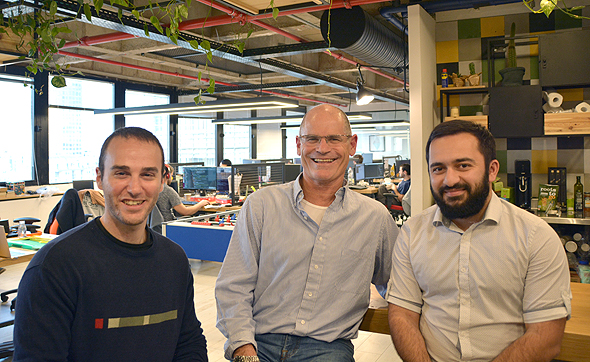 Perception Point team Michael Aminov, Yoram Salinger (center) and Shlomi Levin. Photo: Perception Point PR

Currently only available for email, Perception Point's product is now being tested by U.S. based financial and tech firms, CEO Yoram Salinger said in a phone interview with Calcalist Tuesday. The company plans to update the product and make it compatible with all forms of organizational communication systems in 2018, he added.

Before joining Perception Point, Mr. Salinger served as CEO of Massachusetts-based automotive, mobile, and Internet of Things services company Red Bend Software Ltd., which was acquired by Samsung subsidiary Harman International in 2015.

With the migration of many IT systems to the cloud, organizations must apply comprehensive cyber-protection solutions today more than ever, Pinhas Buchris, a general partner at SOMV, said in a statement.