Automated Cannabis Analytics Startup GemmaCert Raises $2.25 Million
The Tel Aviv-based startup developed a kettle-sized device that determines the potency of cannabis within 30 seconds, without destroying the sample
Automated Cannabis analytics Startup GemmaCert Ltd. has raised $2.25 million, the company announced Tuesday, in a round led by Switzerland-based NEO Ventures Inc., Beverly Hills-based Stony Hill Corp., and Tel Aviv-based Arba Finance Company Ltd. The company will use the funding to launch the company's cannabis composition and potency testing device, also called GemmaCert.

For daily updates, subscribe to our newsletter by clicking here.

The company's kettle-sized device provides an analysis of the total THC and CBD levels of a sample—be it dry flower buds, ground cannabis or cannabis oil—within 30 seconds. Relying on mass spectrometry, an analytical technique that examines interactions between light and matter, the device provides its results without destroying the tested substance.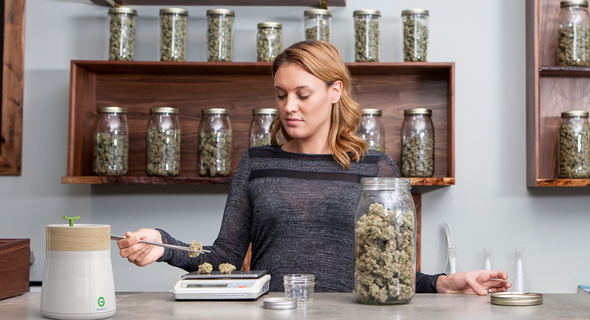 GemmaCert's device. Photo: GemmaCert Ltd

Tel Aviv-based GemmaCert was founded in 2015 by CEO Guy Setton, a food industry veteran, and chief scientific officer Oded Shoseyov, a professor of plant molecular biology, protein engineering and nano-biotechnology at The Hebrew University in Jerusalem.

Cannabis use is rising globally as medical cannabis policies lead to increased prescription and regulators shift from criminalization to a more permissive legal stance. According to the U.S. 2015 national survey on drug use and health, 13.6% of people over 18 surveyed reported using cannabis recreationally in 2015. Among the 18-25 age group, the number rose to 32%.

In early 2017, cannabis market researcher The Arcview Group estimated that the industry could reach $22.6 billion in revenue in 2021 just in North America, jumping from $6.7 billion in 2016, and research company Grand View Research Inc. estimated in January 2017 that the global medical cannabis market could reach $55.8 billion by 2025.

But as cannabis use increases, standardization proves problematic, as the potency can differ not only between strains but sometimes even between plants of the same strain, and high concentrations of the main active ingredient THC have been linked to increased health risk, just as increased levels of CBD (cannabidiol) have been connected to reduced health risk.

"Achieving a consistent dose is crucial for optimal treatment and patient safety, more so as cannabis turns increasingly popular and acceptable," said Mr. Shoseyov in a statement. "That uncertainty challenges effective management for a variety of medical conditions and ailments."

There are around 40 cannabis-related startups operating today in Israel, according to Startup Nation Central (SNC), a Tel Aviv-based non-profit organization connecting international entities with Israeli startups.