Leaf, Long-Awaited Home Cannabis Farming Box, to Start Shipping
Around 1,500 units of the automated home cannabis growing box, currently priced at $3,000, have been sold. Shipping is expected to begin in April or May
Leaf, a long-awaited automated home cannabis growing box that looks like what would happen if Apple started making refrigerators, will finally be ready to ship within a couple of months, according to Jonathan Ofir, co-founder and CEO of Corsica Innovations Inc., which develops the sought-after appliance.
For daily updates, subscribe to our newsletter by clicking here.
Founded in 2015 by Israel-born entrepreneurs Mr. Ofir and his partner Eran Mordechay, Corsica Innovations employs a 9-person team in Tel Aviv and in Boulder, Colorado. The company introduced its concept for the Leaf automated cannabis growing appliance in 2015, and has since sold some 1,500 units, which are currently priced at $3,000 a piece, according to Mr. Ofir.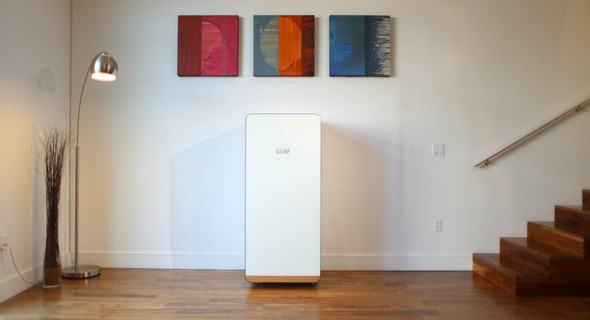 Leaf cannabis growing box. Photo: PR

According to the company website, the 24-inch by 24-inch by 60-inch Leaf growing box automatically monitors and controls lighting, temperature, and humidity conditions inside the growing space, injects fertilizer in optimal times and adjust water acidity levels to create an optimal growing environment for the plant. The app-operated system is based on machine learning technology and uses an algorithm that can dynamically adjust the plant's growing conditions.

While the Leaf website suggests the appliance is ideal for growing a variety of plants, from strawberries to kale and herbs, In a phone interview on Monday, Mr. Ofir said in an interview with Calcalist that the company's claim for fame is its compatibility for optimal, automated farming of cannabis.

"It is a very sensitive plant," Mr. Ofir said. "If you plant it outside in the soil and the sun, eventually it will grow, but to achieve a quality product with a good amount of cannabinoids you have to monitor the plant closely."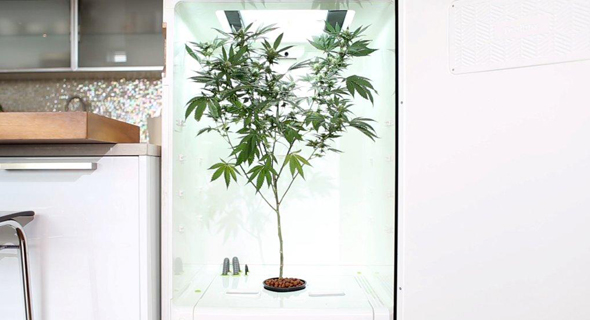 Leaf cannabis growing box. Photo: PR

According to Mr. Ofir, most home cannabis growers grow their plants in a closet or a growing tent. "The problem is that these things are not effective and are typically ugly," Mr. Ofir said.

Corsica Innovation has raised approximately $4.5 million in equity from investors such as Boca Raton, Florida-based cannabis-focused private equity firm Phyto Partners and cannabis investment firm CJV Capital Ltd.

Founded in 2013 and headquartered in Haifa, in Israel's north, Seedo is another company attempting to innovate home farming technologies. Its automated device, shorter and stouter than the Leaf, promises much of the same features. Priced at $2,400 and set to ship in the second quarter of 2018, the Seedo is available for pre-sale on the company's website.

In September 2015, Leaf was accepted to TechCrunch's Disrupt Battlefield in San Francisco. "We pre-sold a lot of units in that period, right after we started," Mr. Ofir said. "Since then, we have worked on product development." The company has recently begun manufacturing in China, and expects to begin shipping to buyers in the U.S. in April or May of this year.