U.S. Luge Team 3D-Printed Sleds Tailored to Riders' Bodies
The new sleds created in collaboration with 3D-printing company Stratasys are in use at the Winter Olympic Games held this month in Pyeongchang, South Korea
USA Luge, the U.S. Olympic luge team, collaborated with Nasdaq-listed 3D printing company Stratasys Ltd. to design and manufacture customized racing sleds tailored to each athlete's body, the company announced Wednesday.
For daily updates, subscribe to our newsletter by clicking here.
The new sleds are in use at the Winter Olympic Games held this month in Pyeongchang, South Korea. As of Thursday, before the final team rally scheduled for tonight, the U.S. luge team has won one silver medal at the men's singles competition, finishing at 3:10.728 minutes. Austria won the gold with 3:10.702 minutes.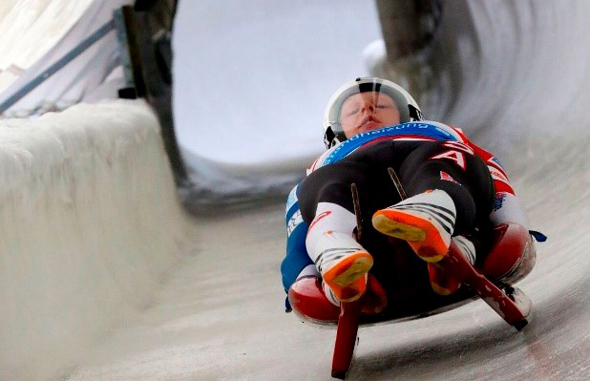 USA Luge 3D-printed sled. Photo: Business Wire

Luge is an Olympic sport in which one or two athletes are racing face up and feet first on a sled that can reach nearly 90 miles per hour. Athletes compete against a highly precise timer, with a precision of one one-thousandth of a second on artificial tracks. Steering is done either by shifting weight with their shoulders or by applying pressure with their calves.

To go through the track efficiently and reduce friction between the sled and the icy track, which may badly influence their results, athletes must minimize movement, making customization a major factor in their success.

Additive manufacturing is used for engineering mandrels for a composite structure at the front of the sled used to accurately position the athletes' legs during the competition. These structures are extremely complex and difficult to manufacture but Stratasys' 3D printing technology allows the team to customize and manufacture the entire sled in just a few days.

In competitive luge racing, fractions of a second make all the difference and comfortable, aerodynamic sled designs are what wins races, USA Luge technical program manager, Jon Owen, said in a statement. The collaboration with Stratasys allows the team to balance "comfort and performance by tailoring the sled to each rider's body while minimizing fabrication cost and time," he said.

Stratasys was established in 1989 and is dually-headquartered in Minnesota and Rehovot, a town in the central district of Israel. With around 2,500 employees worldwide, Stratasys manufactures 3D printers and production systems for various industries including aerospace, automotive, healthcare, and consumer products. In the 3rd quarter of 2017, the company reported a GAAP net loss of $10.2 million and non-GAAP net income of $4.1 million.

On Friday, Stratasys announced it had signed a joint venture agreement with Singapore-listed aircraft maintenance provider SIA Engineering Company Ltd., to establish a center for additive manufacturing of 3D printed parts for commercial aircrafts. Earlier this month, Stratasys announced it is working in collaboration with multinational 3D software company Dassault Systèmes and robotics innovator Easton LaChappelle, on developing a prosthetic arm.