Despite Hype, Chinese Investors Still Minor Players in Israeli Tech, Report Says
Data from past four years shows Chinese investors tend to seek out strategic tech potential rather than immediate financial performance
Even as more and more Chinese companies eye Israel for investments, data from the past four years shows that Chinese investors are still a minor factor in Israel's tech scene.

For daily updates, subscribe to our newsletter by clicking here.

A report published Thursday by Israel-based market research firm IVC Research Center Ltd. says that Chinese investors focus almost exclusively on strategic investments in Israel, meaning they search for innovative technology to incorporate into their businesses rather than investing for capital gains.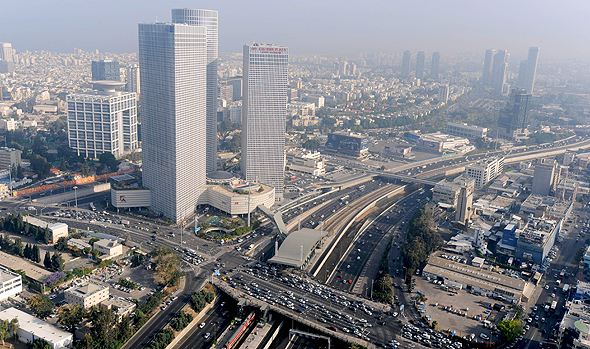 Tel Aviv. Photo: Bloomberg

Many Chinese companies made headlines recently in relation to Israel. Just in February, Xiamen Comfort Science & Technology Group Co. Ltd. and China-based RJ Capital Group announced they formed a $10 million fund to invest in Israeli consumer healthcare and personal care startups; Alibaba's cloud division announced an investment and a partnership with data analytics startup SQream Technologies; Calcalist reported that Alibaba Chairman Jack Ma is planning to visit Israel in May for meetings with local venture capital firms and startups; and China's largest insurer, Ping An Insurance Group Co of China Ltd., announced a $25 million investment in telehealth company Tyto Care Ltd.

The number of Chinese players investing in Israeli tech companies nearly doubled in the past four years, from 18 in 2013 to 34 in 2017, according to the report. They participated in 43 investment rounds in 2017 and 42 in 2016, compared to 26 in 2013.

The total amount of funding raised with the participation of Chinese investors in 2015-2017 ranged went up from $500 million to nearly $600 million, representing around 12% of the total capital raised by all Israeli startups in the corresponding years, according to IVC's data.

However, as investment rounds usually involve several investors and companies rarely report the segmentation of the funds according to each investor, the actual capital invested by Chinese investors in total cannot be quantified from publicly available data. The actual capital investments from China would necessarily fall short of the 12% figure.

In contrary to the increasing involvement in direct funding rounds, Chinese investment in Israeli venture capital funds has dropped from nine investments made in 2014 to three made in 2017, with the corresponding capital sums dropping accordingly.

In terms of merger and acquisitions and buyouts, Chinese investors are minor players compared to American, European and Japanese entities, according to IVC's data, with 2016 being an anomaly due to the $4.4 billion acquisition of online gaming company Playtika Ltd. by a Chinese consortium. In 2015 they accounted for 8% of activity, spread across two deals, and in 2017 they accounted for 1.1% of activity and three deals.