Latest Venture by Mobileye Founders Valued at $1 Billion
Jerusalem-based OrCam develops a wearable personal assistant for the visually impaired
Artificial vision device company OrCam Technologies Ltd. completed a funding round according to a company valuation of $1 billion, two people related to two of the investors said, speaking to Calcalist on conditions of anonymity.

For daily updates, subscribe to our newsletter by clicking here.

Reuters previously reported that OrCam raised $30.4 million in the round from investors including Israel-based Clal Insurance and Israel-based pension fund Meitav Dash Investments Ltd., in exchange for a 3% stake in the company. Citing OrCam's co-founder and CEO Ziv Aviram, Reuters also reported that OrCam is planning an initial public offering in around a year.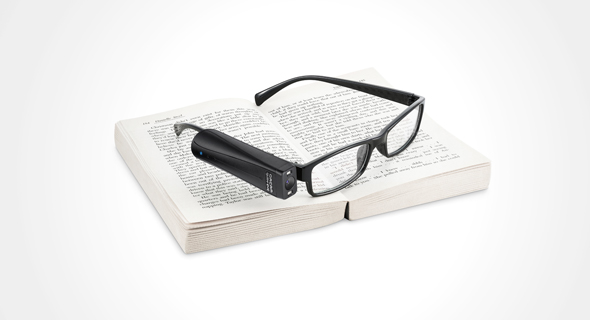 OrCam's MyEye 0.2. Photo: OrCam Technologies Ltd.

Jerusalem-headquartered OrCam was founded in 2010 by Mr. Aviram and Amnon Shashua. The two previously co-founded automotive chipmaker Mobileye, sold to Intel in 2017 for $15.3 billion. OrCam develops and manufactures visual aid devices. Its lead product, a wearable personal assistant named MyEye, is a camera and microphone-equipped device that clips onto glasses and can then read out loud text such as street names, newspapers, the labels on products and menus in restaurants. The device can also name people encountered and identify currency.

In December 2017, OrCam announced the launch of a new generation version of MyEye, a wireless device that is mounted on glasses magnetically and weights around 22.5 grams (less than an ounce). The device is activated by pointing gestures or by simply by following the wearer's gaze, the company stated, allowing users to keep their hands free.

OrCam is now looking to raise $100 million from global funds before listing on a U.S.-based exchange, hoping for a valuation of $1.5-$2 billion at its initial public offering, according to Reuters. Mr. Aviram said OrCam reached revenues of $10 million in 2017, and expects the company to become profitable in 2019, according to the report by Reuters.