Record Revenues Fail to Fortify Tower on Nasdaq
The Israel-based chip company reported record numbers on all key metrics, but gave a cautious outlook for the next quarter
Israel-based wireless chip and camera sensors manufacturer Tower Semiconductor Ltd. published its fourth quarter and annual reports for the fiscal year 2017 on Thursday, announcing record revenues of $358 million for the quarter, up 5.3% year to year. Though the sum fell slightly short of analyst expectations, the company matched the revenues it predicted for the quarter in its third quarter reports, published November.

For daily updates, subscribe to our newsletter by clicking here.

For the first quarter of 2018, ending March 31, Tower cautiously predicted revenues of $325 million with an upward or downward range of 5%, citing industry seasonal behavior, but said it expects to see growth over the year.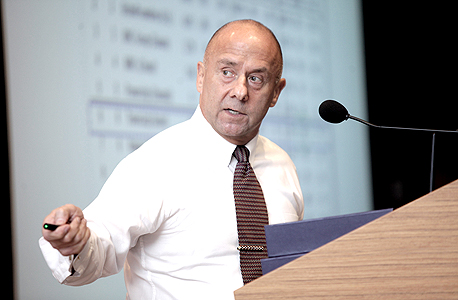 Tower Semiconductor CEO Russell Ellwanger. Photo: Amit Sha'al

Tower is currently trending down as much as 6% in pre-market trading on Nasdaq.

Tower also announced earnings per share of $1.40 for the quarter, versus $0.49 in 2016, and annual record revenues of $1.39 billion, up 11% year over year. Its net profit for 2017 was a record $298 million, representing $3.08 basic EPS, but included two one-time income tax benefits: $82 million resulting from an Israeli deferred tax asset realization, and $13 million as a result of the U.S. tax reform and the reduction in federal income tax. The company stated that the reform will reduce its future tax payments as well.

"2017 was the best year for the company to date, as seen in the across the board record financial results," said CEO Russell Ellwanger in a statement. He added that the past year saw the realization of several key strategic initiatives that will serve to create company growth into the next decade.

In a December 2017 interview with Calcalist, Mr. Ellwanger recounted how he built the company up since he stepped in as chief executive in 2005. The Israel-headquartered company had a market value of around $108.6 million at the time, as well as huge debts.

Mr. Ellwanger launched a restructuring program, relying on monetary infusion from parent company Israel Corp., and changed the company's focus to the fabrication of customized analog chips. In 2008 he merged Tower with U.S.-based chip manufacturer Jazz Semiconductor, and since then expanded Tower's operations with several factory acquisitions in the U.S. and Japan.

"I had a clear path and short-time goals, but how do you get employees passionate about something that will only happen in a decade?" Mr. Ellwanger told Calcalist. "My answer was by celebrating each short-term goal we achieve, and that is what we did."