Shared Office Company Mixer Raises $40 million
The funding round was led by British investor Howard Shore who has joined the company as a non-executive chairman
Shared office space company Mixer has raised $40 million in a round led by Puma Brandenburg, the investment firm headed by British businessman Howard Shore, Mixer's co-chief executives Eyal Naveh and Omer Granit said in an interview with Calcalist Monday.

For daily updates, subscribe to our newsletter by clicking here.

The deal closed on December 29th and Mr. Shore has since joined Mixer as a non-executive chairman helping the company formulate its growth strategy.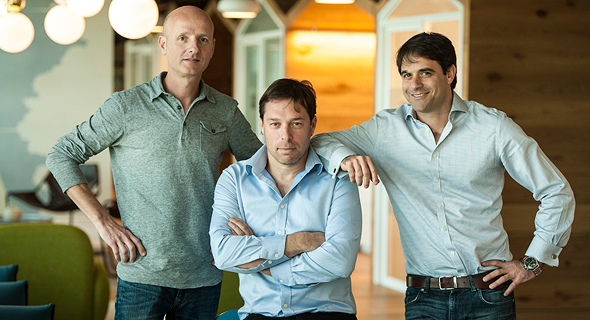 Mixer founders Omer Granit, Eyal Naveh and Dror Katzir, right to left. Photo: Mixer PR

Founded in 2016, Mixer, whose corporate name is TLV Lounge Ltd., currently operates an upmarket coworking location in Tel Aviv. The company is using the funding to expand in Israel and internationally with two locations being planned in New York and one in Berlin.

Mixer will open the new sites at a rate of one every four months, offering space to 550 people on average, Mr. Granit said.

As the company grows it hopes to offer its tenants, which include startups tech companies, services like cybersecurity and customer relationship management, he added.

"We hope to give them added value beyond the access to the physical space," Mr. Granit said. "We see ourselves as a premium brand in coworking."

The new investment allowed Mixer to buy out its original investor who had provided the NIS 12 million ($3.43 million) for the development of the company's coworking facility in Tel Aviv, Mr. Granit said.

Among the companies that have signed leases at Mixer's share office space are Nvidia Corporation, investment firm i3 Equity Partners, and a startup incubator affiliated with France-based insurance company AXA.

The investment in Mixer comes as a number of shared office space companies linked to Israel are expanding internationally.

Market leader WeWork, founded by Israeli-raised entrepreneur Adam Neumann, has a $20 billion valuation and worldwide reach. But the field includes upstarts as well.