Chinese Bike-Sharing Company Mobike Launches Free Israeli Pilot
The service will start as early as next week in selected areas and is meant to eventually expand nationwide
China's bike-sharing company Beijing Mobike Technology Co. Ltd. will officially launch its service in Israel next week with a free pilot in selected areas, Israeli car-sharing company Car2Go Ltd., that has partnered with Mobike, announced Monday.

For daily updates, subscribe to our newsletter by clicking here.

Mobike offers a station-free bike sharing service operated via a smartphone app that allows users to pick up and drop off their bike anywhere.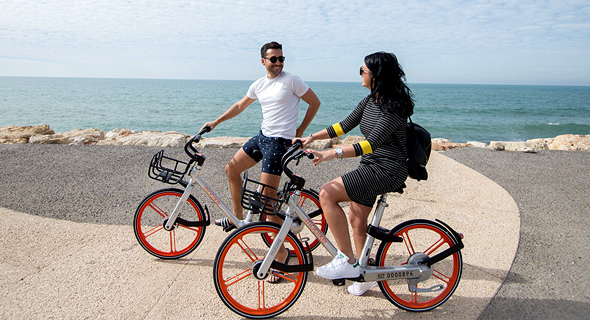 Mobike bicycles. Photo: Yael Amir

The service will initially be offered in the towns of Rishon LeZion and Rehovot in central Israel, and in the Krayot town cluster in the country's north, and is meant to gradually expand nationwide, Gil Laser, CEO of Car2Go said in a phone interview with Calcalist Monday. During the pilot, the service will be given free of charge and is later expected to cost NIS 2-4 (approximately $0.5-$1) per 30 minutes, according to the statement.

The service will not be offered in the Tel Aviv area where the city's bike-sharing service Tel-O-Fun is already operating, but Mr. Laser said he is confident that Mobike's model will replace "outdated models" that require docking stations and lack smart features.

Mobike has already imported 2,500 bikes to Israel, and is expecting to add thousands more to its urban service array within the next year, according to the company's announcement.

The bikes' design is optimized for bike-sharing as they have very few exposed moving parts, no visible wires and airless tires that minimize malfunctions, as well as an integrated GPS tracking device and a smart lock to prevent theft, Mr. Laser said.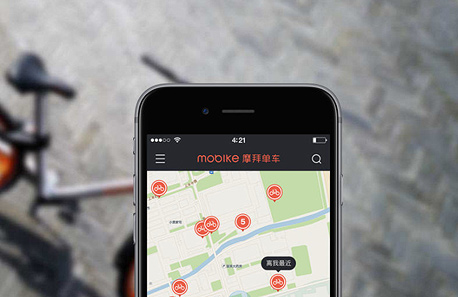 Mobike's mobile app. Photo: PR

Anonymous data collected by the GPS system can also be used to help cities plan a better transportation array by pinpointing where public transport and infrastructure is most needed, he added.

In addition to urban areas, the company plans to offer its services in pop-up locations to accommodate transportation to and from conventions, festivals, large cultural events and tourist attractions during peak seasons, the statement said.

Founded in 2015, Mobike operates in over 160 cities in China alone, with tens of millions of users. In 2017, the company began operating outside China in Singapore, Japan, Malaysia, Italy, the Netherlands, Australia, and the U.S. Mobike has raised nearly $1 billion in investments in 2017 and is backed by Tencent Holdings Ltd.

Founded in 2008, Car2Go offers on-demand car rental services through a mobile app in cities across Israel. In 2017 it launched AutoTel, a car-sharing service offered in collaboration with the city of Tel Aviv.