London, Toronto, Singapore Eyeing The Tel Aviv Stock Exchange
In January, the exchange announced its intention to sell 71% of its shares for around $147 million, following a 2017 parliamentary reform
The stock sale of the Tel Aviv Stock Exchange is on track: multiple exchanges expressed interest in buying into the exchange, including the London Stock Exchange, the Toronto Stock Exchange and the Singapore Exchange Ltd., people familiar with the matter said.

For daily updates, subscribe to our newsletter by clicking here.

The Toronto Stock Exchange has declined to comment.

In 2017, the Israeli parliament approved an amendment of Israel's securities law that enabled changes to the Tel Aviv Exchange's ownership structure. Under the new structure, no single member could own more than a 5% stake, meaning surplus shares must be sold within the next five years. Most of the exchange's current shareholders are banks and brokerages, both domestic and foreign, and 6% is held by the exchange's employees.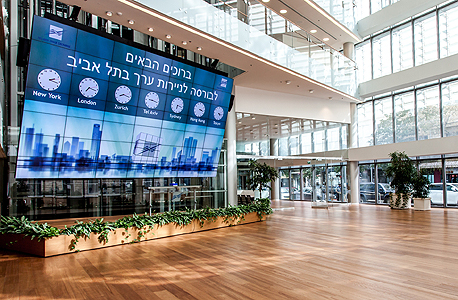 Tel Aviv Stock Exchange. Photo: PR

The reform is necessary to enhance competition in the capital market and attract new members from Israel and abroad, the exchange said at the time, adding that such a sale will make the exchange more prominent, and more accessible to the public.

In January the exchange announced that shareholders agreed to sell 71.7% of their shares, for an aggregated value of around $147 million (NIS 500 million). At the time, the announcement put the deadline for suggesting an interested buyer in April.

The three aforementioned exchanges are currently negotiating an acquisition of the offered shares, as is a group of Israeli investors, the people familiar with the matter said. The talks are helmed by the exchange's CEO Ittai Ben-Zeev, who prefers a merger with an entity that will provide the Tel Aviv Exchange with a strategic advantage, these people added.

The London Stock Exchange and the Singapore Exchange have been approached for comment but have yet to respond.

This article has been updated to include a response from the Toronto Stock Exchange.