Tel Aviv Stock Exchange Shareholders Say Yes to Stake Sale
In September, Israeli court approved the exchange's demutualization
Shareholders of the Tel Aviv Stock Exchange have agreed to sell 71.7% of their shares for an aggregated value of around $147 million (NIS 500 million), according to a Sunday announcement by the exchange. In early January, the exchange's CEO Ittai Ben-Zeev sent a letter to the shareholders, offering to find a third party strategic partner for the stock.

For daily updates, subscribe to our newsletter by clicking here.

Last week, Reuters reported that Mr. Ben-Zeev said at an event held in Tel Aviv that he aims to list the exchange on its own market in 2019, based on 2018's financial results.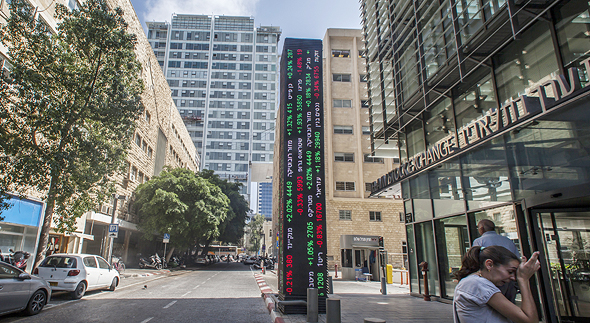 Tel Aviv Stock Exchange. Photo: Bloomberg
In April 2017 the Israeli parliament ratified an amendment of Israel's securities law, enabling changes to the exchange's ownership structure. The decision was approved at the exchange's general meeting in August, and in an Israeli court in September. Under the new structure, ownership of the exchange will be separated from membership, and no single member could hold over a 5% ownership stake, necessitating the sale of surplus shares within five years. The exchange itself will be entitled to distribute its earnings and even issue shares in public offerings.
The reform is necessary to enhance competition in the capital market and attract new members from Israel and abroad, the exchange said in a statement in September, adding that it will render the exchange more prominent and accessible to the public.
The exchange's shareholders are banks and brokerages, both domestic and foreign. 6% of the exchange's ownership is held by the exchange's employees. Some of the shareholders, like Banks Hapoalim and Leumi, have announced they will sell only their surplus shares. Most of the shareholders who declined Mr. Ben-Zeev's offer are foreign banks.
According to the exchange's announcement, it expects leading exchanges around the world to show interest in the stock. According to his letter, Mr. Ben-Zeev has to find and suggest a potential buyer for the current deal by April.
In 2016, Nasdaq announced a partnership with the exchange to help Israeli startups reach out to foreign investors.