Precise Tree and Vine Irrigation Startup Saturas Raises $4 Million
Among investors is Spanish winemaker Miguel Torres Winery
Israel-based precise irrigation startup Saturas Ltd. completed a $4 million investment round, the company's major stakeholder The Trendlines Group Ltd., a seed-stage investment company announced Monday.

For daily updates, subscribe to our newsletter by clicking here.

Investors include China-based fertilizer additives company Hubei Forbon Technology Co. Ltd., Spain-based winemaker Miguel Torres Winery SA and Ramat Magshimim, a collective Israeli farm located in the Golan Heights.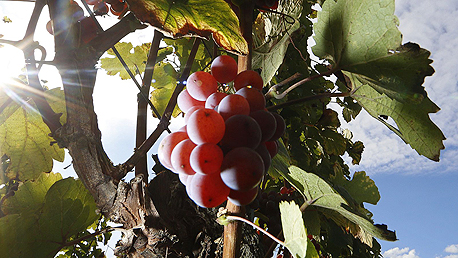 Grapevines (illustration). Photo: Reuters

Founded in 2013 and based in Israel's north, Saturus develops sensors that are planted in the trunks of trees, and vines, and provide real-time hydration status reports that enable farmers to optimize irrigation.

Saturas has completed field trials in citrus, apple and almond orchards in collaboration with irrigation companies Netafim Ltd. in Israel and NaanDanJain Irrigation Ltd. in Spain. Saturas is currently in the final stages of developing modified sensors for vineyards.

The company plans to use the funding in order to advance its technology and prepare for industrial production and market expansion to Spain, the U.S. and California in particular, Anat Halgoa Solomon, co-founder and CEO of Saturas, said in a statement.

Founded in 2007 and headquartered in Misgav, OTC-traded and Singapore-listed Trendlines invests in medical and agricultural tech companies.

Founded in 1870, Miguel Torres Winery is one of the largest wine growing companies in Spain, with vineyards in California and Chile.