Red Bull Teams Up With Automated Broadcasting Company Pixellot to Stream Volleyball Tournament
Pixellot's automated production and broadcast technologies use a customized system of cameras and software capable of monitoring and broadcasting the flow of sporting events
Salzburg, Austria-headquartered media company Red Bull Media House GmbH has partnered with Israel-based video broadcasting startup Pixellot Ltd. to live-broadcast the Beach Volleyball Major Series 2018, currently underway in Fort Lauderdale, Florida, the companies announced Wednesday.

For daily updates, subscribe to our newsletter by clicking here.

Paying subscribers are able to receive a live-stream of the tournament games to any device, access additional content such as behind the scenes footage and interviews, and create and share personal game highlights.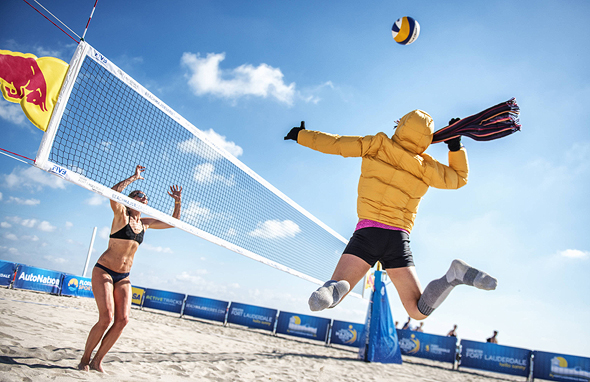 Beach Volleyball Major Series 2018. Photo: AP

Founded in 2013 and based in Petah Tikva, a town in the Tel Aviv metropolitan area, with additional offices in New York, Tokyo and Madrid, Pixellot's automated production and broadcast technologies provide live, multi-angled, panoramic HD broadcast of sporting events. Using a system of cameras covering the entire scope of the venue, Pixellot's software, customized for the specific characteristics of each game and venue, is able to monitor and broadcast the flow of the game without the need to deploy personnel on site. In 2014, Pixellot raised $3 million from Beijing-based web company Baidu.

Founded in 2007, Red Bull Media House is a subsidiary of Austrian energy drink manufacturer Red Bull GmbH, focused on the creation and marketing of premium paid TV, film, and digital content.