Israeli Researchers Cultivate Rare Desert Truffles
Researchers in the Negev desert have succeeded in cultivating the rare desert truffle, whose market price can reach $100 per pound
Researchers from an agricultural research center operating in Israel's Negev desert announced last week they successfully cultivated the rare desert truffle, whose market price can reach $100 per pound (NIS 800 per kilogram), slightly less than the cost of silver.
For daily updates, subscribe to our newsletter by clicking here.
The desert truffle, whose scientific name is the Terfezia Leonis fungus, occurs unpredictably in nature by growing on the roots of common desert shrub Helianthemum Sessiliflorum. The truffle is a sought-after delicacy across the Mediterranean Region, North Africa, and the Middle East.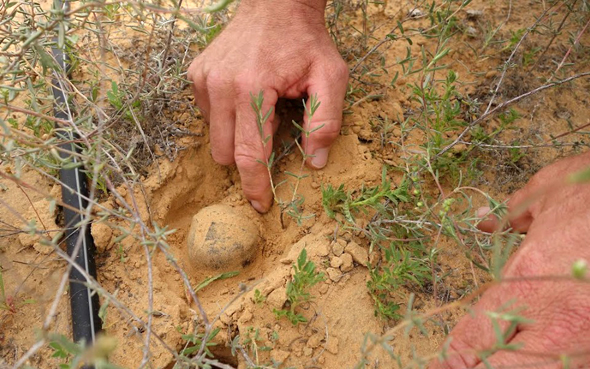 Desert truffle. Photo: Ramat HaNegev Desert Agriculture Center

This is the first time that the desert truffle has been cultivated, according to Ramat HaNegev Desert Agriculture Center, the research center behind the new breed of truffle. The research has been carried out in collaboration with Agricultural Research Organization, Volcani Center and Ben-Gurion University of the Negev.

Scientist Ofer Guy who oversees the project told Ynet that pending the success of this year's truffle crop, the center will pass on the knowledge to farmers in the region. Commercial cultivation may begin as early as next year, Mr. Guy said.

The truffle fungus and its host shrub require little water and no fertilizer, making it an extremely cost-effective agricultural crop.