Elbit to Supply Advanced Cockpit System to Boeing's Super Hornet, Report Says
The Israeli defense contractor will provide advanced cockpit avionics capabilities for the Boeing F/A-18 Super Hornet fleet operated by the U.S. Navy
Elbit Systems Ltd., an Israel-based defense and homeland security manufacturer and contractor, will provide advanced cockpit avionics system to the Boeing F/A-18 Super Hornet fleet operated by the U.S. Navy, according to a report by Navy Recognition.

For daily updates, subscribe to our newsletter by clicking here.

Boeing has been awarded a contract to modernize the U.S. Navy's Super Hornet fleet and will begin installing initial updates to the aircraft in the early 2020s. The process will convert existing Block II Super Hornets to a new Block III configuration. Elbit's avionics system is featured in the update.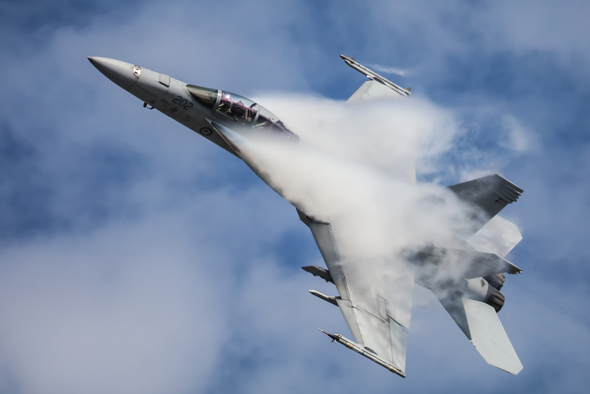 Boeing super hornet. Photo: Shutterstock
According to Navy Recognition, the Block III conversion will include enhanced network capability, longer range with conformal fuel tanks, an advanced cockpit system, signature improvements and an enhanced communication system. The updates are expected to keep the F/A-18 in active service for decades to come.
"The initial focus of this program will extend the life of the fleet from 6,000 to 9,000 flight hours," said Mark Sears, Super Hornet service life modification (SLM) program director at Boeing. "But SLM will expand to include Block II to Block III conversion, systems grooming and reset and O-level maintenance tasks designed to deliver a more maintainable aircraft with extended life and more capability. Each of these jets will fly another 10 to 15 years, so making them next-generation aircraft is critical."
Designed by Elbit Systems of America, the advanced cockpit system (ACS) includes mission processors, a low-profile head-up display, and a large 10X19 inch HD display with touch screen and picture-in-picture capabilities, optimizing tactical situation displays, processing advanced applications, and providing high-definition formats for advanced sensor video presentations.
This article was originally published on IsraelDefense.