Israel Announces Successful Test of the Arrow 3 Missile System
The Israeli Defense Ministry, together with the U.S. Missile Defense Agency, conducted a successful flight test of the Arrow 3 missile defense system on Monday
The Israeli Ministry of Defense and the U.S. Missile Defense Agency (MDA) successfully test-fired the long-range Arrow 3 missile defense system early Monday morning, the Israeli Defense Ministry announced. The Arrow 3 is designed to intercept ballistic missiles outside the earth's atmosphere.
For daily updates, subscribe to our newsletter by clicking here.
The test, conducted in central Israel, was led by the state-owned Israel Aerospace Industries Ltd. (IAI) with the participation of the Israel Air Force.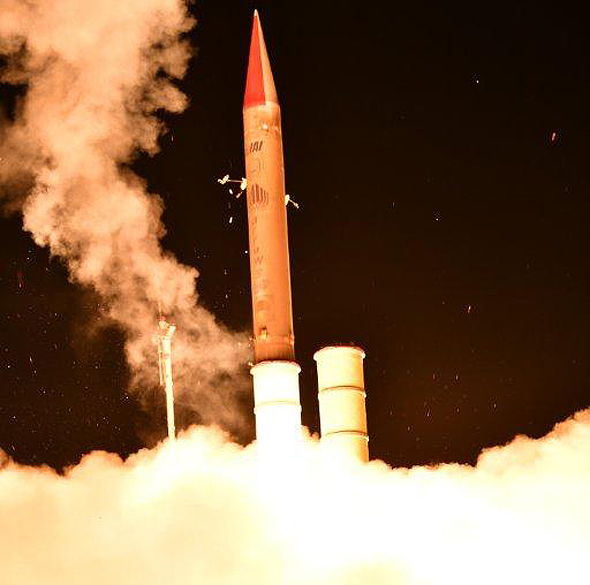 Arrow 3 test fire. Photo: Israeli Defense Ministry
According to the Israeli Defense Ministry, the Arrow 3 was launched at 2:30 a.m. The successful test was preceded by two canceled tests. In December, a test was canceled due to safety concerns and in January, another test was called off because of a data transfer problem.
The Arrow 3 system is a central component of the multi-layered defense system developed by the Ministry of Defense through the Homa administration, also known as the Israel Missile Defense Organization, part of the Directorate of Defense Research and Development (Mafat). Other components of Israel's missile defense system are David's Sling, Iron Dome, and Arrow 2.
The Arrow 3 is developed by Israel Aerospace Industries together with U.S. aircraft manufacturer The Boeing Company and Israeli defense contractors Elbit Systems Ltd., ELTA Systems LTD., IMI Systems Ltd., and Rafael Advanced Defense Systems Ltd.
The Arrow 3 system was delivered to the Israeli Air Force for operational use in January 2017.
The article was first published on IsraelDefense.co.il