Air India Launches Direct Five-Hour Flights Between Delhi and Tel Aviv
The flight's shorter-than-usual haul is due to the fact that Air India received permission to fly over Saudi airspace
India's national carrier Air India on Wednesday began selling direct five-hour flights between Delhi and Israel's Ben-Gurion international airport. The first flight is scheduled to take off on March 22, and roundtrip ticket prices start at $710.
For daily updates, subscribe to our newsletter by clicking here.
The flight's shorter-than-usual haul is due to the fact that Air India received permission to fly over Saudi airspace. Saudi Arabia does not have diplomatic relations with Israel, and the permission marks a potential diplomatic shift between the two countries.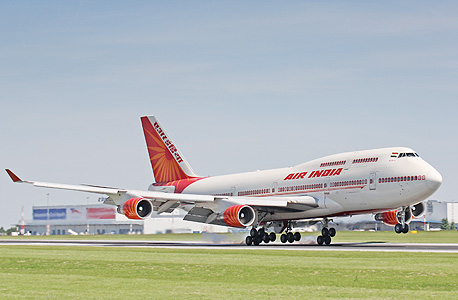 Air India. Photo: Shutterstock
Air India received a grant of $925,000 (NIS 3.2 million) from the Israeli Ministry of Tourism in order to operate three weekly flights on the new route, the ministry told Ynet News on Wednesday.
On Monday, Reuters reported that Israeli Prime Minister Benjamin Netanyahu, who is on a state visit to Washington, D.C., said at a press event that Saudi Arabia had permitted Air India to fly over its territory on its new routes to and from Tel Aviv. Air India denied Mr. Netanyahu's claim.
Mr. Netanyahu discussed the launch of direct Air India flights to Israel with Indian Prime Minister Narendra Modi while on a state visit to India in January.
Air India first announced its plan to operate direct flights to Tel Aviv over Saudi territory in February, prompting Israel's national carrier El Al to appeal to the International Civil Aviation Organization (ICAO) for assistance in obtaining similar permission from Saudi Arabia.