Israel's Economy is Strong, but its Inclusiveness is Low, Says OECD Survey
While the tech sector is Israel's growth engine, to secure the future emphasis should be placed on education and infrastructure for disadvantaged groups, says the report
The Israeli economy is showing growth for the 15th consecutive year, but economic inequality and lack of social cohesion continue to plague the local market, according to the OECD's economic survey of Israel.

For daily updates, subscribe to our newsletter by clicking here.

Published Sunday, the report shows Israel's real gross domestic product (GDP) development has surpassed the OECD average in 2006 and has since increasingly widened the gap. This is in large part thanks to Israel's tech sector, which attracts many multinationals to the country and raises the average wage substantially. Unemployment has seen a consistent decline since 2004 and currently stands at around 3.7%. Public debt in Israel has also been on the decline since 2003, and is currently around 60% of GDP, compared to the OECD average of over 110%.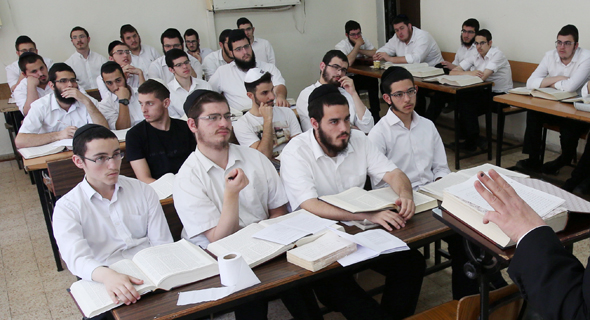 Ultra-Orthodox students, Israel. Photo: Shaul Golan

"Unemployment is at historically low levels, and the rise in people with jobs has had a significant impact on the continuing convergence of living standards in Israel with those in the most advanced economies," said OECD Acting Chief Economist Alvaro Pereira in a statement.

However, the report states that while unemployment in Israel is low, the share of the working poor in Israel is high—and rising. This is because Israel's marginalized groups, notably Arabs with Israeli citizenship and Ultra-Orthodox Jews, are often relegated to low-paid jobs due to their lower education and skill levels.

Despite comprising around 20% of the population, Arabs with Israeli citizenship only account for 1.4% of the lucrative technology jobs in Israel, according to an August 2017 report by the Israeli ministry of finance. Ultra-Orthodox Jews make up around 10% of the population but only 0.7% of the tech sector.

As ultra-Orthodox Jews are expected to make up 16%-40% of the country's population by 2059, according to a 2012 demographic forecast by Israel's governmental central bureau of statistics, and Arabs with Israeli citizenship are expected to make up 15%-34% of the population by that date, their inclusion will have a tremendous impact on Israel's economic growth and stability.

Other problems cited by the OECD report are high housing prices, low social mobility, a large infrastructure deficiency, particularly in public transportation, and a less favorable business environment than the OECD average.

The report's key recommendations, therefore, focus mainly on decreasing the gaps in education, with suggestions such as increasing the funding to disadvantaged schools and areas and making funding to the Jewish-Orthodox sector contingent on the teaching of core subjects at school; and on bettering infrastructure in disadvantaged areas to improve mobility, job prospects, and well-being.

Israel's current excellent economic status offers the country "a unique opportunity to prepare for the challenges of the future, by taking steps to raise productivity, improve social cohesion and guarantee high quality of life for all Israelis," Mr. Pereira said.