Company that Develops Injectable Bone Grafts Expands Clinical Trial
Unlike conventional methods, Bonus Biogroup turns fat tissue collected from patients into bone grafts that can be transplanted with a minimally invasive procedure
Israel-based biotechnology company Bonus Biogroup Ltd. announced on Sunday the launch of a new clinical trial to test its injectable bone grafts in 30-40 patients. The permits for the trial, which will test the grafts in people suffering from critical bones loss in their arms or legs, were received after three pilot patients that received the grafts in the past few months showed promising recovery results.
For daily updates, subscribe to our newsletter by clicking here.
The announcement sent Bonus' stock up 11% on the Tel Aviv Stock Exchange by Sunday market close, giving the company a market cap of over NIS 500 million ($145 million).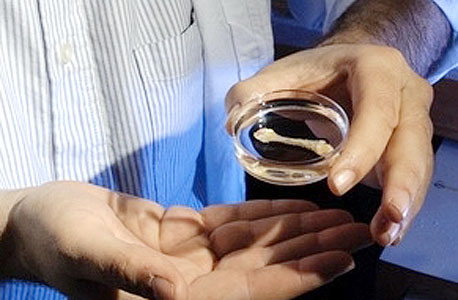 Bonus Biogroup. Photo: PR

Based in the northern Israeli port city of Haifa, Bonus uses fat tissue collected from patients to create an injectable mixture containing bone-forming cells, growth stimulating factors, and scaffolding material. After the culture is grown in a bioreactor, it is transplanted into the damaged bone, where the bone cells then proliferate and reform the missing part.

Currently, bone grafts are surgical procedures in which bone tissue is transplanted into damaged bones or joints that will not heal fully on their own. Grafts can be autologous—taken from another part of a patient's own body, or allogenic—taken from a cadaver. Allogenic grafts, usually used for larger corrections, do not require additional surgery to retrieve the graft, but run a greater risk of rejection and cannot create new bone growth, only support existing regeneration. Autologous grafts are less likely to be rejected, but pose their own problems since they require a separate procedure to harvest the tissue.

Bonus' grafts are autologous, meaning the risk of rejection or negative immune response is low, and they do not require the same invasive surgery as traditional grafts do. While injectable bone grafts already exist in the market, current products are synthetic substitutions such as hydro gels or phosphate composites and not actual bone tissue.

"There are orthopedic conditions for which no solution exists today," CEO Shai Meretzki said in a Sunday interview with Calcalist.

Bonus' new clinical trial, to be held in Israel, will recruit both men and women, aged 18-70. The company is also testing its grafts in jawbones in a separate clinical trial.

All of the trials will adhere to U.S. Food and Drug Administration protocols, said Mr. Meretzki. "We've also started the process of listing on a stock exchange in the U.S., which is our main market, and as a dual-listed company it will be easier for us to engage American investors."

Bonus is currently strapped for cash. In its third quarter reports for 2017, published in November, the company received a going concern notice, meaning its cash will not last for more than 12 months. The company reported cash reserves of around NIS 2 million ($600,000), versus a loss of NIS 16.5 million ($4.8 million) for the first nine months of 2017. The company also estimates that any income from sales is three to four years away.