Mind the Tech NYC
Data is Becoming the Core of the Digital Ecosystem, Says Venture Capitalist
Nimrod Kozlovski, partner at Jerusalem Venture Partners (JVP) and Israel-based law firm HFN, spoke at Calcalist's Mind the Tech conference in New York Tuesday
Our conference focuses on the digital architecture of our society and the cultural context of its building blocks. We will question how data is becoming the core building block of the digital ecosystem and inquire the social and cultural arrangement regulating it.

For daily updates, subscribe to our newsletter by clicking here.

Innovation, as well as public discussion, first focused on the digital infrastructure-transport layer, communication, networking, processing, and storage. When the infrastructure seemed to stabilize it became transparent and attention shifted to the logical layer—the code, software and the new operational and functional possibilities. We were and still are inspired by the potential of digital transformation in so many domains of our life.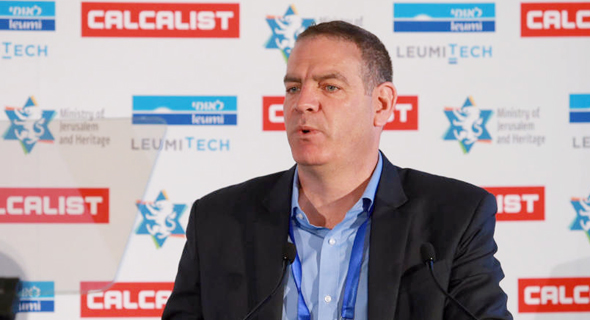 Nimrod Kozlovskiat Calcalist's Mind the Tech conference. Photo: Orel Cohen

In all these conversations, we kind of assume that data is there and we lack critical discussion about the nature of data as the building block. But, what is the data we build upon? Can we trust its origin? Can we validate its authenticity? Can we assess its accuracy? Can we rely on is integrity or assess its vulnerability to manipulation? And anyhow, are we permitted to use this data? Questions of reliability, authenticity, accountability, vulnerability, and manipulability are coming to the forefront. Even when we don't question the source of the data, we must question its usability and expose its biases.

At the same time, we start to realize that data comes with social context that determines its nature as the building block. With data come questions of control, power and rights (individual rights and community rights). Who determines or should determine what can be done with the data?

And this leads to understanding that we have to clarify the arrangement that relate to data. Conversations we had around the basic layers of infrastructure; network or processing —conversations around control, access rights, monitoring. Now it's time to have these necessary conversations about the data layer.

In this process we gradually understand that the data building blocks are individual yet societal at the same time. My data is part of a larger picture—the aggregate data, which enables us to predict patterns (such as diseases), to provide broader insights to optimize processes. We understand that the quality, reliability and accountability of individual data has social implications. We realize that we need a better system to trust, validate, control and access data.

Therefore, it is not surprising that alternative architectures to the current internet architecture capture our imagination. We understand that issues around data might require us to question the infrastructure we choose at first. Blockchain, for example, is hyped not for the efficiency of the protocol (which is not!) but because it is an infrastructure which is data-centric and focused on the data and the "governance" and social arrangements regulating it. While many mistakenly perceive blockchain as an anarchist idea, it is actually an ideal infrastructure of governance. While it creates a distributed infrastructure of trust around data it also enables to hard-code in a smart contract the terms that govern the control, rights and usages of the data building blocks. It enables the contract to reflect the cultural and societal relativism of each society and enforce it.

Blockchain or existing architecture, it's time to start the journey to examine the building blocks of our society.

Nimrod Kozlovski is a partner at JVP and Israel-based law firm HFN, and adjunct professor for Cyber Studies at the Tel Aviv University.