WeWork to Offer Israeli Investors: Buy Bonds and Get Stock Options
Institutional investors managed to get a peek at WeWork's financials. Now they are preparing to assign the real estate company a credit rating, according to sources
WeWork's courting of institutional investors in Israel continues.

The investors have peeked behind the curtains to analyze the financials of the coworking real estate company as it prepares to issue bonds in Israel in the $500 million to $1 billion range, according to representatives of Israeli institutional investors and people familiar with the company who spoke to Calcalist on condition of anonymity.

For daily updates, subscribe to our newsletter by clicking here.

Based on the financials that the investors reviewed in meetings in New York and Tel Aviv, WeWork will likely soon garner an A- credit rating for its Israeli bond offering. The bonds will yield an interest of 4.5%-5%.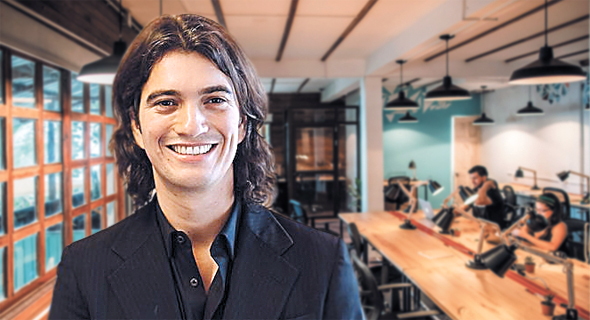 WeWork CEO Adam Neumann. Photo: Agustin Munoz

As an incentive, WeWork will give those who buy bonds worth at least $50 million private stock options at a company valuation of $20 billion, the same figure as with the SoftBank deal last year. Softbank has provided $4.4 billion out of the$6 billion WeWork has raised to date.

WeWork declined to provide comment for this story.

The Israeli institutional investors that have met with WeWork include Phoenix Insurance Company Ltd., Clal Insurance Enterprises Holdings Ltd., Meitav Dash Investments Ltd., and Menora Mivtachim Insurance Ltd.

At WeWork, "they have not finalized a decision," said one of the people familiar with the matter. "They visited us and made all kinds of investment offers, but the final plan has not been finalized." All the offers that have come up include bonds and equity investments at a $20 billion valuation, the person said.

U.S.-based real estate developers have been flocking to the Israeli bond market since 2015, taking advantage of the relatively low-interest rates in the country. They have managed to raise more than $3 billion over the past three years, according to the Real Deal, a New York-headquartered real estate news service.

In March of last year, , told Calcalist that the real estate company is headed toward an initial public offering but he did not say when it would happen.

Mr. Neumann co-founded WeWork in 2010. The company takes out long-term leases on office spaces that it transforms into lively coworking spaces for startups and professionals. Today, WeWork operates more than 150 locations in 36 cities, employing more than 15,000 workers.