888 Holdings Considers Leaving the German Market as Regulatory Difficulties Mount
The online gambling company withdrew from Poland, Australia, Slovenia, Slovakia and the Czech Republic in 2017
London-listed online gambling company 888 Holdings PLC is considering a withdrawal from the German market as the country's six-year regulatory proceedings regarding gambling near the finish line, cutting deep into the group's profits for 2017 in the process.

For daily updates, subscribe to our newsletter by clicking here.

Founded in 1997 by four Israeli entrepreneurs and headquartered in Gibraltar, 888 Holdings owns several subsidiaries and brands, among them 888casino, 888poker, 888 Bingo and 888sport. Most of the company's employees are based in Israel.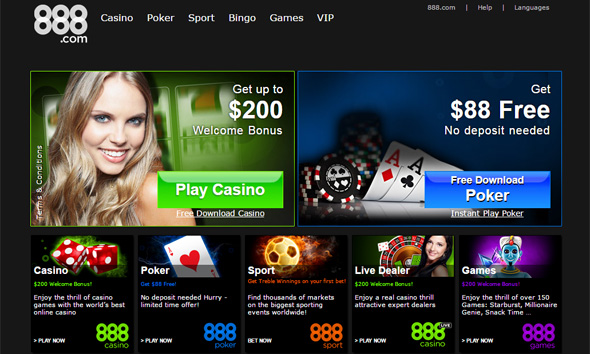 The website of 888 Holdings. Photo: Screenshot

On Tuesday, 888 Holdings published its annual financial results, announcing record revenues of $541.8 million and a 12% increase in adjusted EBITDA, bolstered by a 45% growth in revenues for its sports brand, and its growing operations in several markets and especially Italy and Spain.

The company also recorded exceptional charges of US$50.8 million for the first half of 2017, mostly due to potential value added tax in Germany in relation to 888's operations in the country prior to 2015. Combined with operating expenses, the exception led the company to report a profit of $18.8 million before tax for 2017, compared to $59.2 million before tax in 2016.

In October, Germany's Federal Administrative Court upheld a former ban on three types of online gambling: casino, poker and scratch cards. The rejected appeal concerned two companies, one of which was a subsidiary of 888, and related to their operations in certain parts of Germany. The country is also still debating its Inter-State Gambling Treaty, first introduced in 2012, which should have come into effect in January 2018 but is facing regulatory opposition.

"The Company is highly disappointed by this far-reaching ruling," 888 Holdings wrote in its filing, adding that together with the group's legal counsel, it is "considering potential courses of action, which may include a petition to the German Federal Constitutional Court" and is also "assessing the status and breadth of its offerings in the German market."

The company further stated that the regulatory changes have led some of the payment institutions it has partnered with in Germany to cease providing certain services to the group, and that additional partners have notified the group that they are also reconsidering the matter.

888 Holdings withdrew from Poland, Australia, Slovenia, Slovakia and the Czech Republic in 2017, due to regulatory issues or because they did not fit the group's long-term strategy, the company said.

The company's bottom line is also impacted by regulatory pressures and constraints on gambling in the U.K., its main market. In September 2017, 888 Holdings was fined £7.8 million ($10.1million) by the U.K. Gambling Commission for failure to protect vulnerable customers from gambling-related harm, but in its reports it stated the sum as $5.5 million "in lieu of a fine".

The company is currently down 5.21% on the London Stock Exchange.