Air India's First Direct Flight to Israel Over Saudi Airspace to Take Off Tonight
The new direct route reduces the duration of flights between India and Israel from 7.5-9 hours to 5-6 hours
The first flight in Air India's direct five-hour flight route between Delhi and Tel Aviv, passing through Saudi airspace is scheduled to take off and land at Ben Gurion International Airport Thursday evening, according to airport schedules.

For daily updates, subscribe to our newsletter by clicking here.

The new direct route reduces flight times between India and Israel from 7.5-9 hours to 5-6 hours. Earlier this month, it was reported that India's national carrier has received a $925,000-grant (NIS 3.2 million) from Israel's Ministry of Tourism in order to operate three weekly flights on the new route.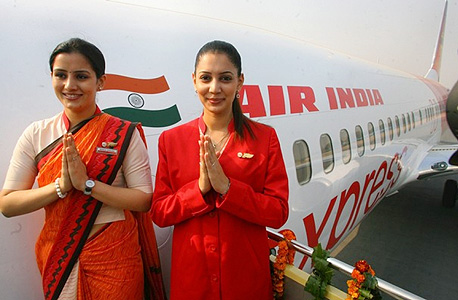 Air India stewardesses (illustration). Photo: Bangaloreaviation

The direct route was first announced by Air India in February. Saudi Arabia, which does not maintain official diplomatic ties with Israel, quickly responded, saying it had not given permission for the flights headed to and from Israel to pass through its airspace. The Saudi issue has apparently been resolved.

The number of tourists from India coming into Israel each year has gone up by nearly 70% in the past four years, from 34,600 in 2014, to 58,000 in 2017, according to the statement.