While Government Hedges on Export, Investors Light Up Israeli Cannabis Stocks
Amir Marketing is the third Tel Aviv-listed company to pivot to Cannabis in recent months
Israel-based Amir Marketing and Investments in Agriculture Ltd., a company that deals in real estate and agriculture products, is considering a pivot to medical cannabis, the company announced Tuesday.

For daily updates, subscribe to our newsletter by clicking here.

The announcement sent Amir Marketing's stock up 28% on the Tel Aviv Stock Exchange by Tuesday market close.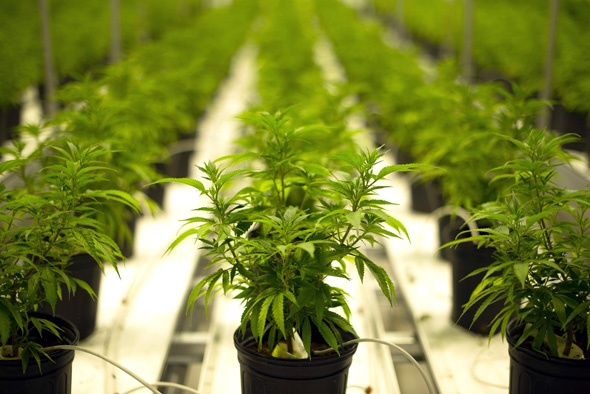 Cannabis. Photo: Bloomberg

Israel's medical cannabis industry has seen significant growth since Israeli parliament rolled out a cannabis export reform plan in 2016, estimating the sector could bring Israel around $1.1 billion a year. Nearly 400 farmers applied for a cannabis growing permit since then. According to a February report by IVC Research Center Ltd., a Tel Aviv-based research center focused on the Israeli tech industry, 68 companies focused on medical cannabis and other cannabis-related technologies currently operate in Israel, more than half of them founded recently.

The reform has stalled in February due to in-government disagreements, raising uncertainties regarding the recent boom in the sector and leading a group of farmers to appeal to Israel's Supreme Court in attempt to counter the stalemate. Currently, the decision regarding medical marijuana export rests with Prime Minister Benjamin Netanyahu.

Unfazed by these regulatory hurdles, investors on the Tel Aviv Stock Exchange are bullish. Amir Marketing is the third Tel Aviv-listed company to announce its entrance into the medical marijuana industry in recent months. All three have seen their stock value rise dramatically, following the pivot announcements.

Medivie Therapeutic Ltd., formerly a medical devices company, was sold as a shelf company in November 2017 and merged with an Israeli kibbutz company growing medical cannabis. Since then, its stock value rose almost 2,000%. In early March, the company announced a $110 million cannabis growth and export deal with an unspecified investor, contingent on the approval of Israeli export.

Together Pharma, a newly-formed Israel-based company that focuses on growing, exporting and distributing medical cannabis, has seen a 662% increase in stock value since the beginning of the year. The company recently announced plans to build a large-scale greenhouse complex in Israel, and later a partnership deal to enact a similar complex outside the country due to the governmental delay.

In its filing, Amir Marketing stated it is currently negotiating a loan with a cannabis growth and distribution company called Breath of Life Internetional Ltd. Founded in 2015, the latter is legally registered under the unconventional spelling according to data by the Israeli state registrar.

If the negotiations pan out, Amir Marketing will have the option of converting its loan of up to $27 million to Breath of Life stock. The company will also have the option of making additional investments, pending certain conditions.

Amir Marketing has also stated that if the export reform falls through, it will consider the establishment of farms or similar facilities for growing cannabis outside of the country.