Exclusive
Israeli Surveillance Company Verint Considers an IPO for its Security Intelligence Division
After a failed attempt to sell the division, Verint mulls an IPO of the sub-unit according to a market value of $800 million
Nasdaq-listed surveillance and business Intelligence company Verint Systems Inc. is considering a separate listing for its security intelligence division, one person familiar with the matter told Calcalist on condition of anonymity.
For daily updates, subscribe to our newsletter by clicking here.
In February, Calcalist reported that Verint was looking to sell the division, citing anonymous sources. At the time, Verint's stock, which peaked in April 2015 at $65, had dropped 41% to $38. The company stock was traded at $37.65 by Tuesday market close.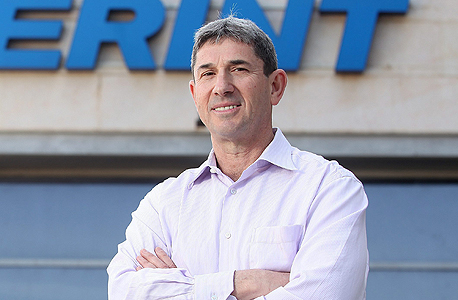 Dan Bodner, CEO of Verint. Photo: Orel Cohen
Verint is now trying a different tack, looking into a possible float of the business unit. So far, response to the attempt by possible partners has been lukewarm, according to two persons familiar with the matter who spoke with Calcalist on conditions of anonymity. While the company is hoping for a $800 million valuation for the unit, valuation may come down to $500 million, these people said.
Verint is set to publish its 2017 fourth quarter and full-year financial results on Wednesday.
Founded in 1994 and headquartered in Melville, New York, Verint develops and sells customer engagement systems and surveillance products. Among Verint's business customers are banks, media companies, and other financial and retail institutions. Verint also provides services to law enforcement organizations, governments, and secure facilities. The company employs a team of 5,100 people, 1,100 in its offices in Israel.
Verint published its third quarter 2017 reports in December. The company registered $37.21 million in profits for the period, or 59 cents per share, significantly lower than the forecasted profits of 69 cents per share. Verints revenues for the quarter totaled $260 million, compared with estimated revenue of $268.8 million.
A spokesperson for the company told Calcalist that the company did not announced any specific plans to list its security division and will provide all relevant updates when it publishes its 2017 financial report.