Israeli National Carrier Petitions Against Air India's Direct Flights to Tel Aviv Through Saudi Airspace
El Al petitioned Israeli Supreme Court to prohibit Air India from using the route, as long as Israeli carriers are not allowed use it
One week after Air India's first direct flight from New Delhi landed in Tel Aviv, Israel's flag carrier, El Al Israel Airlines Ltd. has filed an urgent petition to Israel's Supreme Court, demanding it receives the same flight permits as India's national carrier, the company announced Wednesday. In its petition against Air India, the State of Israel, the Ministry of Transportation and the Israel Airports Authority, El Al is claiming it is being discriminated against.

For daily updates, subscribe to our newsletter by clicking here.

Air India's flight, which landed in Tel Aviv on Thursday night, took just over seven hours and was the first commercial flight to or from Israel to be allowed to fly over Saudi Arabia, which does not maintain official diplomatic ties with Israel.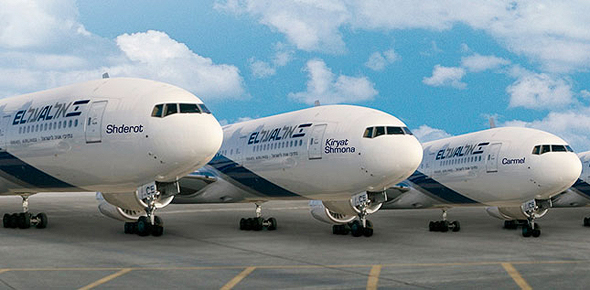 El Al airplanes (illustration). Photo: PR

El Al petitioned the court to prohibit Air India from using the route, as long as Israeli carriers are not allowed to fly over Saudi airspace.

Air India's permit violates the principles of equality mandated by the 1944 Chicago Convention on International Civil Aviation which prohibits Saudi Arabia from discriminating against carriers due to their country of origin and prohibits Israel from allowing such discrimination, El Al said in a statement.

The only direct flight connecting Israel and India, prior to the launch of Air India's new route, was a 7-8.5-hour flight between Tel Aviv and Mumbai, operated by El Al. Having to avoid the Arabian Peninsula, which includes Saudi Arabia, El Al's detour adds about two hours to the flight.

Shortly after the announcement of the new route in February, El Al appealed to the International Civil Aviation Organization (ICAO) for assistance in obtaining similar flight permissions from the Arab Kingdom.

Dubbing the launch of the New Delhi-Tel Aviv route an "historic event" at a cabinet meeting on Sunday, Israeli Prime Minister Benjamin Netanyahu announced he is planning a new 5-hour route from Mumbai to Tel Aviv which will pass through Saudi airspace as well.

The number of tourists coming into Israel from India each year has gone up by nearly 70% in the past four years, from 34,600 in 2014, to 58,000 in 2017, according to data released by Israel's Ministry of tourism last week.