Marijuana Industry Continues Its Charge on the Tel Aviv Stock Exchange
UNV Medicine, an Israel-based marijuana startup, is attempting to merge with a shelf company to pursue export plan
In what could be called a green rush, D Pharm Ltd. on Wednesday became the fourth company listed on the Tel Aviv Stock Exchange to announce it would enter the marijuana business in recent months.

For daily updates, subscribe to our newsletter by clicking here.

D Pharm was founded in 1993 with a focus on researching treatment for problems affecting the central nervous system. The venture failed and turned into a shelf company.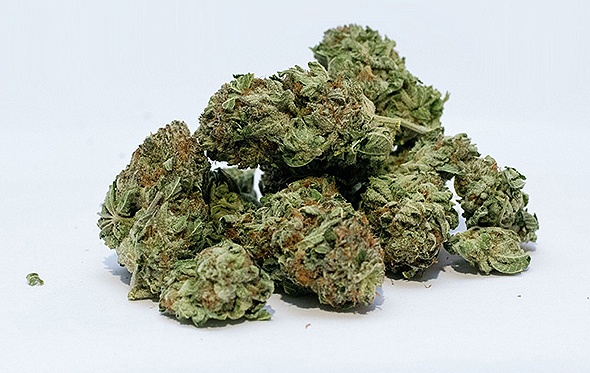 Marijuana buds. Photo: gjbmiller-Pixabay

Now, a private Israel-based company called UNV Medicine Ltd., which develops and markets medical marijuana products, wants to merge with D Pharm and use its public listing.

UNV was founded in 2016 by Golan Bitton following an Israeli government decision to begin reforming its marijuana policy. Up to that point there were eight cannabis farms operating in Israel. Now the government is providing separate permits for four different stages in the business cycle of medical marijuana: growing, production, shipping, and distribution.

UNV has obtained an initial permit for production and signed deals with two marijuana growers to acquire the entirety of their yields. Israel has permitted 130 growers in total.

The goal of going public is to raise funding for a production plant the company hopes to establish in Ashkelon, a city on Israel's southern mediterranean coast, according to a filing with the Tel Aviv Stock Exchange. The 2,000-square-meter plant will be used to process buds and manufacture cannabis oil and cannabis honey.

D Pharm saw its stock jump by 160% on news of the planned merger but success of the venture depends on the Israeli government, which is under pressure to decide whether exporting marijuana will indeed become legal. The Israeli market is believed to be too small to sustain the crop of marijuana businesses that have been founded over the past two years.

The government has published figures estimating that marijuana exports could add $1.1 billion a year to the Israeli economy.