Auto Parts Maker Linamar Partners with Israeli Startup to Produce Shock-Absorbing Wheels
The Canadian industrial company has agreed to spend millions on a new production line for SoftWheel, an Israel-based startup developing a high-performance wheel
Linamar Corporation, a Canada-based automotive parts company, is investing "millions of dollars" in a production line for wheels developed by Israel-based SoftWheel Ltd., the startup's CEO, Daniel Barel, said in an interview with Calcalist Monday.

For daily updates, subscribe to our newsletter by clicking here.

The production line, which will be located at a Linamar plant in Canada, will have the capacity to manufacture hundreds of thousands of wheels a year for use in wheelchairs and bicycles, according to Mr. Barel. SoftWheel currently produces several thousand wheels a year at manufacturing facilities in Israel.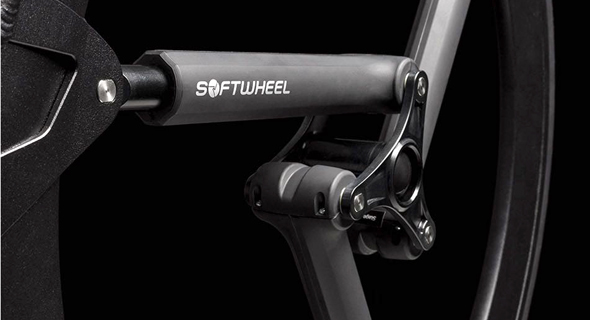 A SoftWheel replaces spokes with shock absorbers. Photo: PR

Founded in 2011, the startup has developed a wheel that, instead of spokes, has three shock absorbers connecting the hub to the rim. As the wheel rolls, the hub moves to absorb the impact of obstacles, allowing the rider in effect to glide over rough terrain. The technology makes the ride more comfortable and energy efficient.

Mr. Barel said that incorporating suspension into the wheel itself is a 200-year old idea that has been attempted unsuccessfully several times over the years. "We are the only ones to make it work," he said.

Mr. Barel said his startup has customers, like city bike-share programs, lined up through the end of the year, including city bike-share programs..

And SoftWheel is looking to take its wheel to the automobile market. Last year, SoftWheel inked its first deal with an auto parts maker, taking on Japan's NSK Ltd. as a minority investor. "We want to make the jump to automotive and to do that we need large partners like Linamar and NSK," Mr. Barel said.

With 60 factories around the world and clients that include Ford, Honda, and a Volkswagen, Linamar is a major Tier 1 automotive parts manufacturer. Mr. Barel said that SoftWheel has begun working with Linamar on research and development at the company's facility in the Detroit area.