Israeli Biotech Company Algatech Expands Into Asia
Algatech bought a controlling stake in New Zealand-based microalgae cultivation company Supreme Health
Israeli biotech company Algatechnologies Ltd., known as Algatech, bought a controlling stake in New Zealand-based microalgae cultivation company Supreme Health New Zealand Limited, a spokesman for Algatech told Calcalist on Monday.

For daily updates, subscribe to our newsletter by clicking here.

The company did not disclose the financial terms of the deal nor the timeframe for its execution, but the spokesman for the company said the purpose of the deal is for Algatech to use Supreme Health's existing marketing channels to launch its activity in Asia.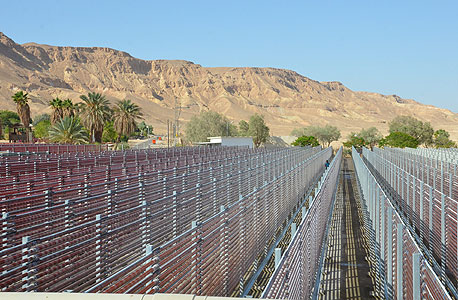 Algatech. Photo: Yair Sagi

Founded in 1998 and based in Ketura, a kibbutz in southern Israel, Algatech cultivates microalgae and produces natural astaxanthin, which is used as a nutritional additive and in the cosmetics industry. The company sells algae-based products in over 35 countries worldwide. The company also has an office in New York. In 2013, U.K.-based strategic investment group Alpha Investments acquired the controlling share in Algatech.

"The investment in Supreme Health will allow us to realize the opportunity for growth in Asia, and primarily in China, where we have detected growing demand for algae-based products," Hagai Stadler, CEO of Algatech, said in an emailed statement.