Temi Inks Deal to Distribute Domestic Robot Helpers in China
Temi is a video-oriented autonomous robot capable of recognizing and following its users around, making video calls, reporting the weather, playing music or carrying small objects from room to room
New York-headquartered Roboteam Home USA Inc., also known as Temi Inc., has signed a three-year distribution deal for 100,000 units of its personal assistant robot, called Temi, with Chinese electronics distributor Shenzhen Aisidi Co., Ltd., Yossi Wolf, founder and CEO of Temi said in a phone interview with Calcalist on Sunday.

For daily updates, subscribe to our newsletter by clicking here.

The exact financial terms of the deal were not disclosed but according to Mr. Wolf, Temi will supply Aisidi with 30,000 Temi units in the first stage of the deal. Temi is currently negotiating a similar deal with a U.S. distributor, Mr. Wolf said.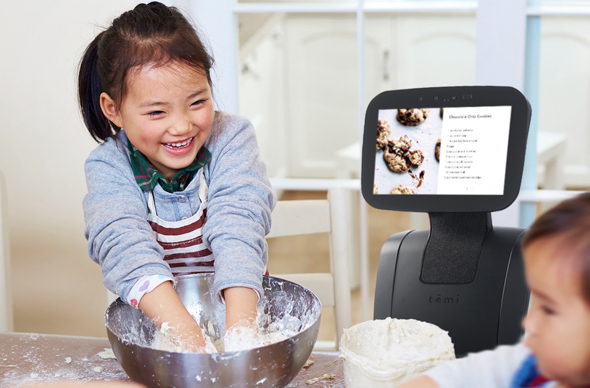 Temi's domestic robot helper. Photo: Temi PR

While military and industrial use of robotics has been around for a while, the past few years have given rise to robots aimed at the private sector, capable of performing everyday home and office tasks similar to what science fiction author Isaac Asimov envisioned decades ago. Temi is a video-oriented tablet on wheels that looks like a cross between Disney's cartoon robots Wall-E and Eve. Weighing 25 pounds, the voice-activated autonomous robot can recognize and follow its users around, make video calls, report the weather, play music or bring a coffee cup back to the kitchen.

Mr. Wolf is the former CEO of Roboteam Defense, a company that designs unmanned robots for military, defense, law enforcement, and public safety applications which are used by authorities in 32 countries, including the Israeli military, the U.S. Army, and the FBI, according to company statements. In 2016 Mr. Wolf set up Temi, a consumer-focused robotics company inspired by the needs of his aging grandmother. The company has about 100 employees working from offices in New York, San Francisco, Tel Aviv, Singapore and Shenzhen, China. The company has raised $60 million to date from a group of investors that include John Wu, former CTO of Chinese e-commerce company Alibaba Group Holding Ltd. and Generali Investments Europe S.p.A.

Temi operates on Android, allowing developers to build upon its system and add specific features they need to the basic artificial intelligence and video features, Mr. Wolf said.

Currently in trial mode, Temi will hit the market within the next few months with a first New York store and global online sales scheduled to open in the fall, Mr. Wolf said. The price tag for the robot will be $1,500.