Israeli Insurer Invests in Struggling Drone Maker Aeronautics
Phoenix Holdings now owns a 5.18 stake in Aeronautics, whose value declined by 50% since its June 2017 IPO
Israeli insurer Phoenix Holdings Ltd. bought a 5.18% stake in Israeli drone maker Aeronautics Defense Systems Ltd., according to a Monday filing to the Tel Aviv Stock Exchange. The deal was completed in late March.

For daily updates, subscribe to our newsletter by clicking here.

Following the announcement, on Monday Aeronautics' stock went up by 1.73% and the company traded at a market value of $143 million (NIS 501 million).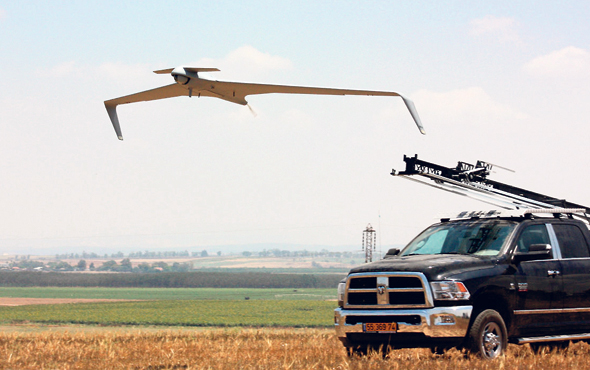 An Aeronautics UAV. Photo: PR
Aeronautics first listed on the exchange in June 2017 and was traded at a market value of approximately $285 million (NIS one billion) through July, before its stock began declining. Aeronautics' stock has since plunged more than 50%.
Founded in 1997 and headquartered in central Israel, Aeronautics develops and manufactures unmanned aerial systems (UAS) for military and homeland security use, and has over 45 defense, military, and homeland security customers worldwide.
In August 2017, Aeronautics reported to the exchange that the Israeli Ministry of Defense had halted its license to export its Orbiter 1K unmanned aerial vehicle to an "unnamed but prominent customer," blocking a deal which the company valued at $20 million.
Then, in November 2017, Israeli police announced it is investigating Aeronautics in relation to a deal it signed with a non-Israeli client. An Israeli court has issued a sweeping gag order on all details pertaining to the investigation. According to media reports that preceded the gag order, Aeronautics had allegedly carried out a live demonstration of one of its suicide drones on an Armenian army post at the request of the Azerbaijani army, a major client of Aeronautics that was responsible for 20% of the company's sales in 2016, according to the regulatory filing. The investigation is still ongoing.