Israel Set to Approve Export of Cannabis
The approval of medical cannabis export was included in an overall cannabis reform approved by the Israeli government in 2016 but was later halted due to a ministerial dispute
After months of discussions, the Israeli government is set to approve the legalization of medical cannabis exports, as part of a large-scale cannabis reform already underway in the country. A major hurdle for the approval of cannabis exports had been the opposition of the Israeli Minister of Public Security Gilad Erdan, who has now consented to a revised plan.

For daily updates, subscribe to our newsletter by clicking here.

The revised plan is due to be submitted to government approval in the coming days.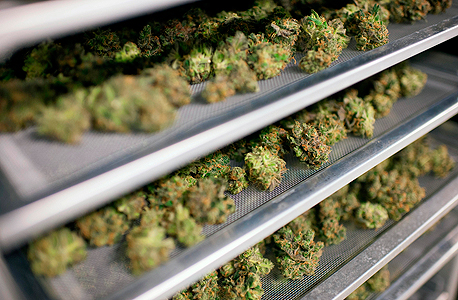 Cannabis. Photo: Bloomberg
During recent budgetary discussions, an agreement was reached between the Israeli Ministry of Public Security and the Ministry of Finance to allocate additional funds required to police future cannabis exports. Mr. Erdan has previously demanded an increase of up to $57 million (NIS 200 million) in his ministry's budget to secure cannabis facilities and oversee the licensing process.
"I support the use of cannabis for medical purposes as well as the export of cannabis, due to our advanced knowledge in this field," Mr. Arden told Ynet News. "That said, as the minister of public security it is my duty to ensure that the export of cannabis will not cause a leakage of forbidden drugs, and I am glad to have reached an understanding with the Ministry of Finance that will allow the approval of exports," Mr. Erdan said.
According to data by the Ministry of Finance, the legalization of cannabis products from Israel is estimated at $1.1 billion (NIS 4 billion) annually. The Israeli government first approved the medical cannabis reform in 2016.
Nearly 400 Israeli farmers have already applied for cannabis growing permits when the export reform was halted earlier this year. In a February statement, Meir Zur, head of Israel's farmers' organization, said that some Israeli farmers have sunk hundreds of thousands of shekels and have shut down other operations hoping to join the fast-growing global business of medical marijuana.
As part of the new agreement, the two Israeli ministries agreed to allocate 25 police officers to oversee cannabis operations and provide exporting licenses to up to 50 cannabis growers. Export licenses would only be granted to finished cannabis products and for medical use only, and not for raw cannabis materials.
Israel's perceived advantage in the global medical cannabis market is the fact that it intends to regulate cannabis pharmaceuticals according to the same stringent guidelines governing the pharmaceutical industry, which include regulations on labeling, shelf-life, and active-ingredient concentration. If successful, Israel could be the first country to standardize cannabis medical products. The Ministry of Health will serve as a regulator for Israel's budding cannabis sector, supervising growers, processing facilities, distributors, and pharmacies.
On April 20, selected Israeli pharmacies will begin selling prescription cannabis products as part of the country's 2016 cannabis reform.